ICRC Delhi sources relief materials for global operations...CHF 13.7 million expended in 2015
Imagine a humanitarian convoy made up of hundreds of tonnes of rice travelling from one country to another- 2500 miles apart-for the benefit of people in need. That was the case recently when the ICRC New Delhi purchased 450 tonnes of rice from Burdwan in West Bengal, India, on behalf of ICRC headquarters, for distribution to beneficiaries across different Syrian cities where people are facing extremely difficult conditions because of the on-going armed conflict.
The Indian market is of great significance to efforts of the ICRC to source for relief items for its global humanitarian operations. For example in 2015 alone, the ICRC purchased relief materials worth more than INR 95 crores (about 13.7 million Swiss Francs) from the Indian market for distribution in its areas of operation.
Essentially, what the ICRC buys from India are blankets, sleeping mats, buckets, kitchen sets, mosquito nets and supplementary and therapeutic food sachets. Interestingly, the items are procured from different parts of the country, clearly reflecting the diversity it offers as one of the key sourcing hubs for the ICRC globally. While blankets are primarily sourced from the northern states of Punjab and Haryana, sleeping mats come from Maharashtra in Western India, while mosquito nets from the state of Tamil Nadu in South India among others. These items are mainly distributed in the four major ICRC contexts of Syria, Iraq, South Sudan, and Central Africa.
As a result of its strategic location and capacity to produce high quality goods, the Indian market is well positioned to conveniently supply items to the Middle East and African countries, many of which are ICRC's biggest operations. This means that the ICRC can rapidly get emergency goods to crisis zones from India. All the goods that are sourced from different markets (including India) undergo a very rigorous testing process and must meet the ICRC's stringent ethical and environmental standards, followed by laboratory analysis before long term agreements are signed with the suppliers. The box below explains details of the procurement process.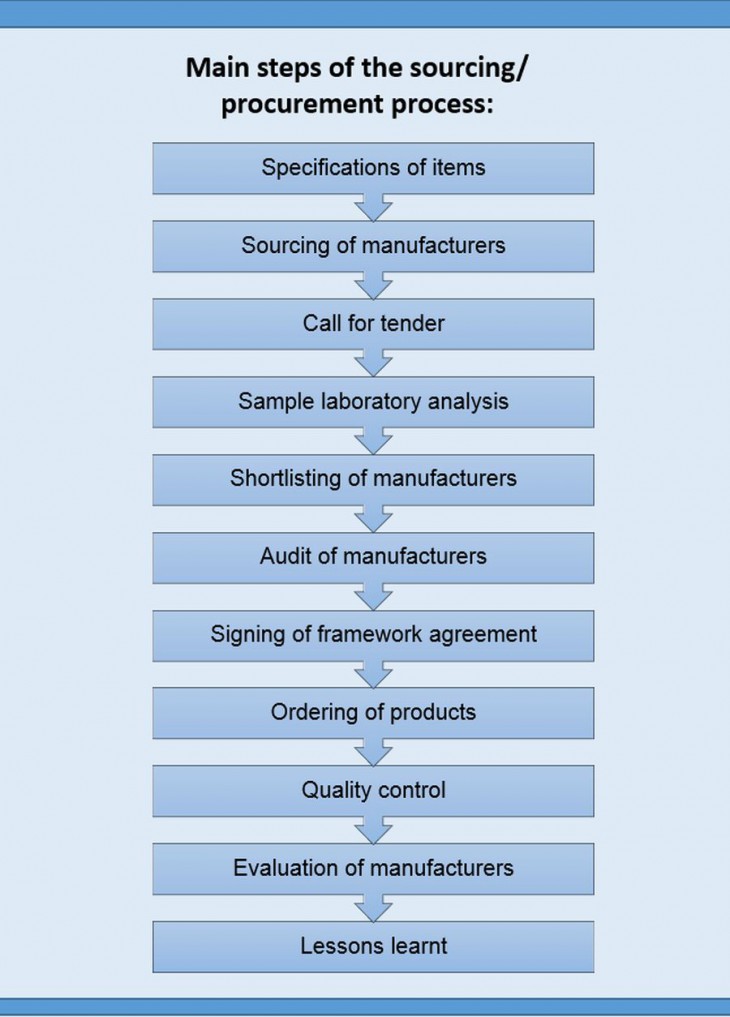 According to Rodney Gallwey, Asia Sourcing Manager at the ICRC Regional Delegation in New Delhi, "India is home to a very dynamic market. Since 2009, when the ICRC started sourcing relief material from here, there has been a steady growth in small and medium-scale enterprises, which has helped our sourcing efforts." 
Indeed, every year, purchase by the ICRC from the Indian market increases by 10-15% and the country is expected to continue playing a major role in the procurement activities of the ICRC in the future. Gallwey goes further to say that "lower wages and improved standards are evolving in the country and these make the Indian market lucrative and attractive for patronage. Furthermore, India has an added value for some niche products like sleeping mats, supplementary and therapeutic food and these are quite suitable for the kind of purchases that we make at the ICRC."
Indeed Gallwey's attestation does not come as a surprise and fittingly explains why India is as important today as China for the ICRC in its continuous effort to source relief materials for its humanitarian operations.