Kyrgyzstan: Prison nurses at Institution 31 get extra training
The nurses of Penal Institution 31 are currently following an "Advanced life-support measures" course.
"The course consists of 150 hours of theoretical and practical training, and will be run without affecting the health service at Institution 31," explained Dr Gulina Omukeeva, head of the Emergency Medical Training Centre of the Kyrgyz State Medical Institute for Retraining and Qualifications (KSMI). "Instructors from the KSMI will standardize the training of the nurses in accordance with the national programme for continuing education."
The course is a joint project involving the State Service for the Execution of Punishments, the Ministry of Health and the International Committee of the Red Cross (ICRC) in Kyrgyzstan.
Run by KSMI instructors, the course at Penal Institution 31 started on 24 October and will end on 23 December 2016.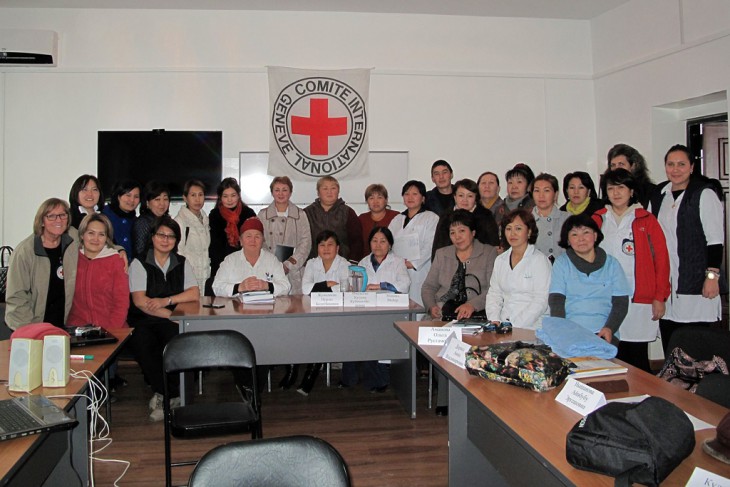 "Training the nurses was planned as part of the ICRC's efforts to develop the professional capacity of prison staff," commented ICRC detention doctor Ghirmai Yiehdego. "We run courses on a numbr of topics to improve the quality of health care for detainees."
"Penal Institution 31 is a special complex for the treatment of detainees with all types of tuberculosis," said Dr Akylbek Asanov, head of the Medical Directorate of the State Service for the Execution of Punishments. "It took several years of collaboration between our institutions to centralize TB treatment there. In addition to making considerable investments in infrastructure and undertaking other structural changes, we have always paid great attention to training medical and non-medical staff to enhance their knowledge and skills, and we remain open to furthering our successful cooperation in this regard."
For further information, please contact:
Svetlana Shvacheva, ICRC Bishkek, tel: + 996 312 300 772 (ext. 203)