Lebanon: ICRC carries out largest food distribution to Syrian refugees since crisis began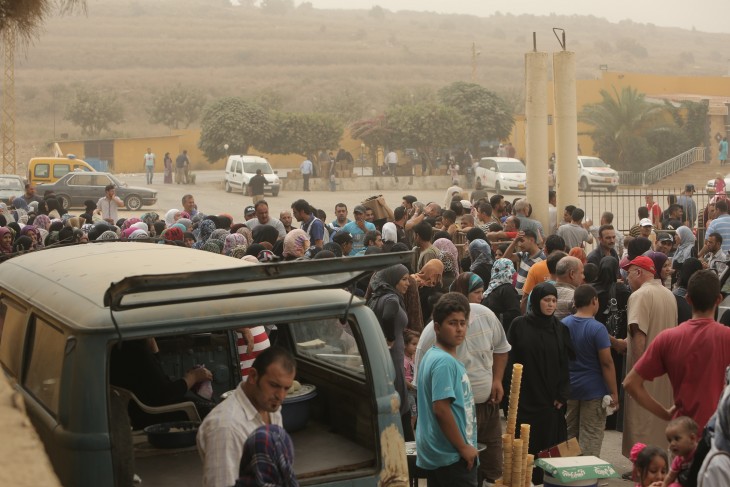 The International Committee of the Red Cross (ICRC), has distributed 90 tons of food to around 10 thousand Syrian refugees in northern Lebanon. The distribution was supported by the Lebanese Red Cross. Food was also given to Lebanese families who have been hosting the refugees in the area of Dreib Al Awsat in the governorate of Akkar.
"It's the first time we have made such a large food distribution in Lebanon since the Syrian crisis began," said Jeroen Carrin, the coordinator of the food distribution for the ICRC. "It's a sign that needs are growing significantly."
For the past few years the ICRC has tried to fill gaps not covered by other humanitarian organizations and assist those most vulnerable. This food distribution is a response to the fact that other humanitarian organizations are no longer able to provide the necessary levels of food because of cuts to their budgets.
"The people in the Dreib El Awsat area are facing particularly difficult conditions. The host communities were already living in poor conditions prior to the crisis. They are now sharing the burden with a large number of refugees who sought safety in their villages," said Mr Carrin.
The food parcels are designed to last for a period of one month for a family of five and include food items such as sugar, olive oil, vegetables, tuna, white beans and rice. Hygiene kits were also distributed.
In Lebanon, as a whole, the ICRC is involved in many projects. It is supporting health centres for both Lebanese and Syrian people and manages a center for the treatment of weapon wounded patients in Northern Lebanon. It is implementing water infrastructure projects and is running livelihood programmes to allow people to earn an income.
For further information, please contact:
Tarek Wheibi, ICRC Beirut, tel: +961 70 153 928
Soaade Messoudi, ICRC Beirut, tel: +961 71 802876
Dibeh Fakhr, ICRC Geneva, tel: +41 79 447 37 26