Philippines: Multisectoral training on IHL domestic legislation
Nearly 40 representatives of the Philippines justice and law-enforcement agencies learned more about international humanitarian law (IHL) and the applicability of domestic IHL legislation in a training held from 16 to 18 July 2019 in Cagayan de Oro City, Misamis Oriental province.
Through lectures and case studies, the training aimed at deepening the participants' knowledge about the applicability of domestic IHL legislation including RA 9851 (IHL Act), RA 10530 (Emblem Law), and the new RA 11188 (Children in Situations of Armed Conflict Law - CSAC).  
"The level of engagement of participants was impressive and the output from the case study showed that they had internalised the key points, including the new legislation stating the non-criminalization of children involved in armed conflict," said Katerina Kappos, head of the ICRC's legal department in the Philippines.
The ICRC has been organizing training sessions on IHL for judges in collaboration with the Philippine Judicial Academy (PHILJA) since 2016. The July training marked the first time that all sectors of the justice system were brought together in one training: judges, prosecutors, members of law-enforcement, along with public attorneys, members of the Commission on Human Rights and the Office of the Ombudsman.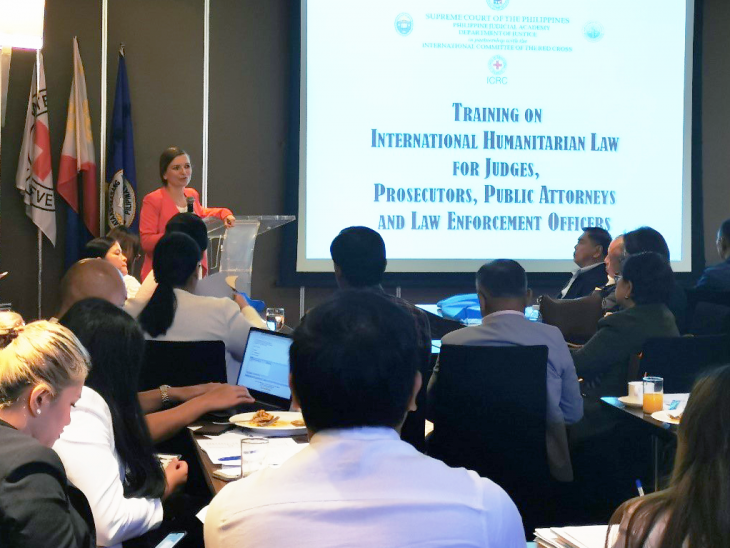 Participating judges came from 10 family courts located in and around Cagayan de Oro, since, under the new CSAC Law, these courts have exclusive jurisdiction over IHL violations involving children (either as accused or victims).  
"Everyone is after the protection of the welfare of children. Learning about the new laws catering to their needs, such as RA 11,188, equips the concerned agencies, especially those comprising the four pillars of justice with the necessary knowledge to address the most urgent and pressing concerns of children in armed conflict," said Judge Evelyn Nery of the  Regional Trial Court Branch 19 (family court) in Cagayan de Oro.
As a reference organization on IHL, the ICRC promotes awareness and respect for these norms with state and non-state parties to a conflict. It works to integrate IHL into domestic legislation, military training and education.
While providing technical support to the authorities when crafting domestic IHL legislation, the ICRC is in no way involved in the prosecution or defense of cases linked to IHL.
The next multisectoral training scheduled for September will focus on the 11 specially designated IHL courts, which have exclusive jurisdiction over crimes charged under RA 9,851 when they do not involve children.