Myanmar: Babies on their back, young mothers trudge through jungles as conflict escalates in Kachin
The people of Kachin State have been caught between intermittent clashes that have continued in the northern part of Myanmar since 2011. A fresh wave of fighting has left close to 6,800 people displaced since early April, when violence broke out again in Kachin. This is besides the 100,000 people who've already been displaced in the state over the years. Over the past month, the ones who've been rendered homeless have crossed hundreds of miles on feet to arrive at local churches and existing camps for the internally displaced people on the outskirts of Myit Kyi Na.
The team of the International Committee of the Red Cross (ICRC) in Myit Kyi Na is continuously responding to the needs of these families with cash assistance, ceramic filters for safe drinking water and ensuring their rights under international humanitarian law are not violated.
"I fled with my family in the middle of the night. We travelled by foot for several hours and then took a bus to get here. I don't know how much longer we have to stay here," says 77-year-old Sharaw Naw Aung, a resident of Injangyang Township, which is nearly 100 km from Myit Kyi Na. Together with his four children, he is currently taking shelter at the Trinity KBC Church in Myit Kyi Na. There are nearly 200 other families who have come from Injangyang, hoping to find a roof on their head at this church. Many more are expected over the next few days.
Displaced from their homes and neighbourhoods, thousands of civilians are still making way through the thick jungles.
Khun Nue, who has a 10-year-old son and is from Jang Yang Township, had to spend three nights in the jungle. "We survived on the food that we managed to grab while fleeing."
As many as 1,050 civilians – mostly from Kum Tsai Taw Yang village – walked day and night and crossed the river to reach a church in Tang Hpre in the last week of April. In the midst of this displacement, there are agonizing stories of separation too. It was reported that a child was separated from his family here. The ICRC team in charge of tracing missing people is looking into the case.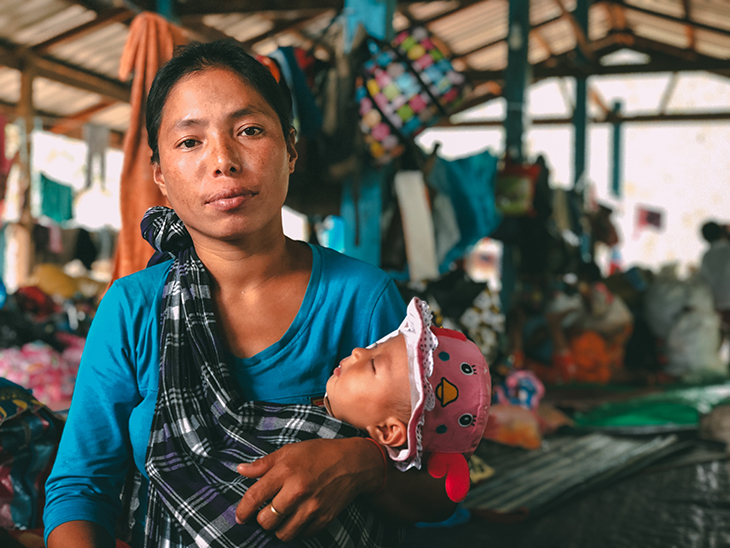 "I fainted when I first heard the news of clashes and shootings around my village. It was shocking," recalls Htu Sam Da Rai of Kum Sai Taw Yang, who fled with three of her children.
There have also been reports of landmines leaving several civilians dead and wounded. Another worry is that people are trapped in a remote forest area near the village of Aung Lawt.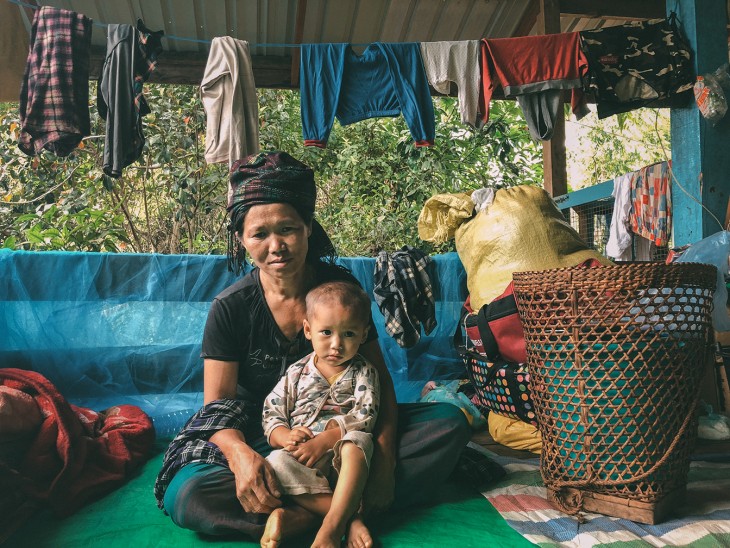 "My husband was stuck at the harbor for two days and is very sick now," says a worried U Di Lu Bu, a mother of four who is temporarily taking shelter at Tang Hpre Catholic Church.
With thousands fleeing at the same time, overcrowding is a huge concern at these temporary shelters. There is no privacy and even finding enough space to sleep is a huge struggle.
"So many of us are cramped inside the church," says Daw Lu Bu, who fled with her children and grandson from Moe Kaung Township. Nearly 400 people are staying at the St Paul Church in Namti Township.
Fifteen-year-old Ywe Nwe, who is studying in Grade 8, says, "I always pray for peace because I know how it feels like to be away from home." The teenager fled along with her cousin and this is the second time she had to run away to escape the clashes.
With the sudden escalation in violence, most families did not get a chance to carry their belongings along. Roi Aung, a young mother of a nine-month-old son, is worried about her baby. "This is the first time that I've had to flee. We walked for several hours and I carried my baby on my back. I don't even have any of his things with me," she says softly, afraid that she might wake up the baby.
With more displacements likely over the next few days, the ICRC will continue to monitor and assess the needs of the citizens and provide more assistance to them. A large-scale humanitarian response will be needed to save lives affected due to the fresh escalation in displacements.