Myanmar: New centre brings physical rehabilitation services to northern Myanmar
Yangon/Myitkyina (ICRC) – The first physical rehabilitation centre in the northern part of Myanmar officially opens its doors today in Myitkyina, Kachin State, following an investment of 1.98 billion Myanmar Kyats (1.5 million US dollars) by the International Committee of the Red Cross (ICRC).
The 60-bed centre will have around 30 staff and is expected, once it reaches full operational capacity, to serve up to 1,500 patients a year with prostheses, orthoses and physiotherapy. The centre will significantly increase access to such services for people in northern Myanmar, in particular those who have been injured by landmines or other unexploded ordnance.
"Previously, patients would have had to travel to Mandalay, more than 20 hours away by bus from Myitkyina, for consultations and physiotherapy and to get their prosthesis fitted," said Jurg Montani, head of the ICRC delegation in Myanmar.
The International Committee of the Red Cross (ICRC), drawing on its long-standing expertise, designed, funded and oversaw the construction of the centre, which was recently handed over to the Ministry of Health and Sports. It is the second biggest ICRC-supported physical rehabilitation centre in the world in terms of working surface area, after the one in Kabul, Afghanistan.
Along with Afghanistan and Cambodia, Myanmar is one of the countries most severely affected by landmines. In addition to causing direct civilian casualties from people accidentally stepping on these deadly weapons, they have a major impact on people's lives and livelihoods. In Kachin and northern Shan alone, over 100,000 people remain displaced because of the conflict. Many of them are afraid to go back to their fields because of landmines. "Though not a solution to the problem of weapon contamination, the physical rehabilitation centre will help alleviate the suffering it causes, and at the same time boost national expertise and capacity to provide physical rehabilitation services for people with disabilities," said Mr Montani.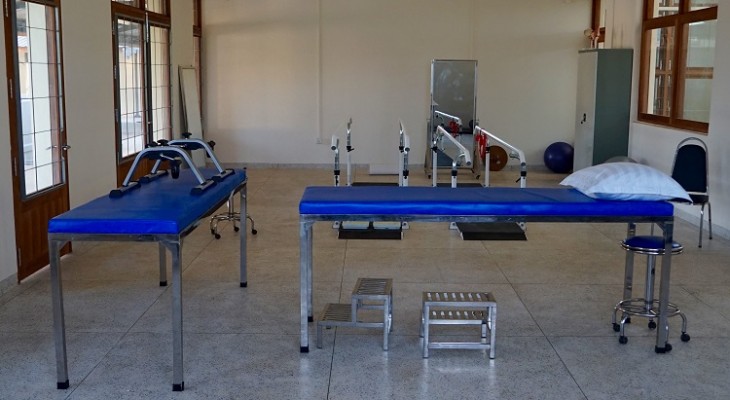 In Myanmar, the ICRC has been running an ambitious physical rehabilitation programme since 1986. It fully supports the Myanmar Red Cross's physical rehabilitation centre in Hpa-An, supports Yenanthar Hospital near Mandalay, and has just finished building another centre in Kyaing Tong, in eastern Shan State.
The ICRC's Physical Rehabilitation Programme has been supporting people with disabilities in conflict-affected countries since 1979, with more than 165 centres in 48 countries so far.
For further information, please contact:
Moe Myint Aung, ICRC Yangon (Myanmar language), tel: +95 9 254 205 987, moaung@icrc.org
Jean-Yves Clémenzo, ICRC Yangon (English language), tel: +95 9 420 107 606, jclemenzo@icrc.org