In Nigeria, fear, anxiety and a long journey home
Fear and anxiety. They are emotions that a teenager, a blind man and two brothers in Nigeria had in common after outbreaks of violence forced them to flee so quickly they lost track of their family. The four share something else in common: A happy ending.
Thirteen-year-old Abba was playing with friends when volleys of gunfire sent the town of Mubi into panic one afternoon in 2014. Abba ran into nearby mountains. Now separated from his family, the teen travelled nearly 200 kilometers north -- mostly on foot – to the city of Maiduguri. Months passed as he settled into the routine of life in a camp for displaced people. Then one day he met with an International Committee of the Red Cross team that specializes in putting separated families back together again.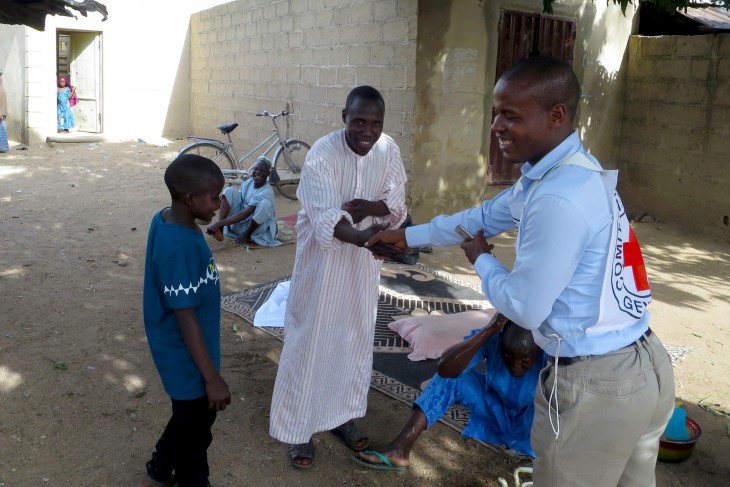 Back in his home town, Mubi, peace eventually returned. So did Abba's family, who had also fled. But the family knew nothing of their lost child, whom they feared was dead. When an ICRC team visited their home, everyone was excited to learn Abba was alive.
"When I first spoke to my parents on the phone from the camp, I was overjoyed," said Abba. "They immediately asked me if I was coming home soon and I said yes."
Violence forced two brothers – Mohammed, 17, and Sadiq, 15 – to flee twice. Their family was first pushed out of their home town of Gwoza. They resettled in Mubi, but the swift onset of violence there forced a fast flight. Having lost contact with their family, the brothers traveled first to Yola and then to Maiduguri. That's where they met with ICRC field officers.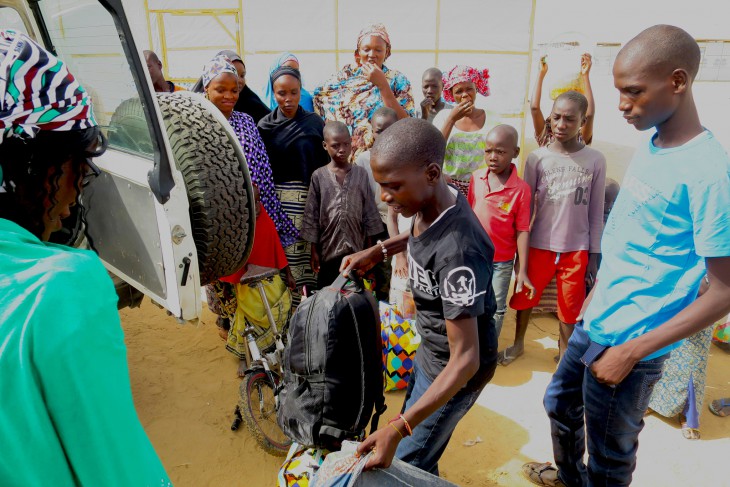 "I gave them a relative´s phone number from memory," Mohammed said. The ICRC team tracked down the teens' father through that relative. "I cannot wait to see my family," Sadiq said on the day they left the camp to return home.
The case of Mohammadu was extra special. The 66-year-old blind man was displaced multiple times. Travel was difficult. Fleeing villagers once left him behind, abandoning him on the road until some women helped him find his way. After days of walking he reached Maiduguri. Late last year Nigeria's National Emergency Management Agency asked the ICRC to help Mohammadu find his family. "I only wish I can return home to my family before I die," Mohammadu told the ICRC team. His hometown was not yet stable, but a nephew in Yola said he would welcome Mohammadu into his home.
The conflict that began in northeastern Nigeria has engulfed the entire Lake Chad region, displacing more than 2 million people in Nigeria, separating countless families. One of the ICRC's core functions is to restore family links by locating people and putting them back in touch with their missing relatives.
After months of heartache and loneliness, four unlikely compatriots – a teen, a blind man and two brothers -- boarded an ICRC plane in mid-April to begin their journey home.
Smiles and laughter broke out as 13-year-old Abba greeted his parents in Mubi. Mustapha, an uncle who raised Abba, could not contain his joy. "We searched for him everywhere after we returned to Mubi," Mustapha said. "We heard conflicting news about his whereabouts until we heard from the ICRC. That was when we rejoiced that we would see him again."
The father of Mohammed and Sadiq welcomed the return of his two sons. Though they are still living as displaced persons in Mubi, the family hopes to safely return to Gwoza soon.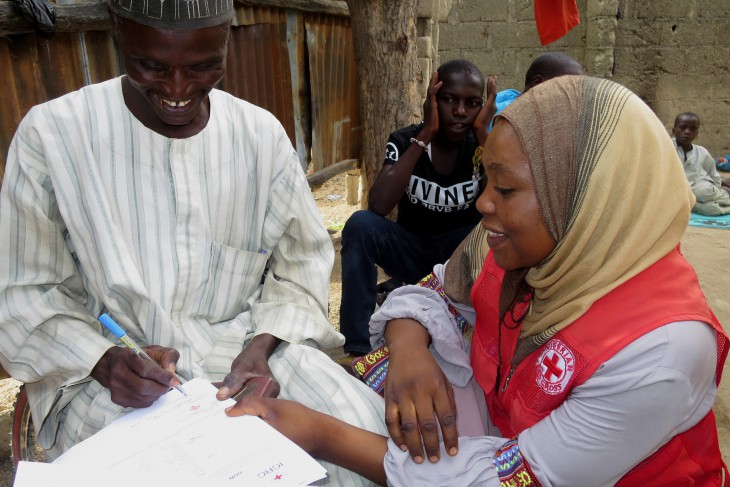 Mohammadu was met at the Yola airport by his nephew Ishaya. "We had given up on him being alive," Ishaya said. "I am very grateful to ICRC for bringing him back home."
On arrival at his nephew's home, Mohammadu sat down under the shade of a tree and said with clear relief in his voice: "I feel like a dead man who has been given life again."
For more information on our work in Nigeria to reunite families: