South Sudan: ICRC inaugurates new Physical Rehabilitation Centre in Wau
Juba (ICRC) – Today, the International Committee of the Red Cross (ICRC) inaugurated a new Physical Rehabilitation Centre (PRC) in Wau Teaching Hospital in partnership with the Western Bahr el Ghazal State Ministry of Gender, Child, and Social Welfare (MGCSW) and State Ministry of Health (MoH).
The centre replaces a facility in Wau that the ICRC has supported since 2014. The new PRC, which was completed at the end of last year, is already fully operational and in use since the beginning of 2023. Equipped with nine specialists and support staff from the MGCSW, the centre provides quality rehabilitation services such as physiotherapy care, a wide range of orthopedic devices, and mobility aids such as prostheses, orthoses, crutches, and wheelchairs, as well as mental health and psycho-social support to people with disabilities.
A dormitory of 35 beds is available at the hospital, providing free accommodation to disabled persons coming from remote areas of the Western Bahr el Ghazal State and other neighboring states.
In addition to rehabilitation services, the ICRC also offers initiatives to improve the social integration of service recipients. It helps them become socially and economically active in their communities, for example, through wheelchair basketball and by providing grants for them to start small businesses.
''It is always heartening to see and learn that a person with a disability regains the confidence and independence to walk or be physically active again, allowing them to return to their villages and work in their farms or open small businesses with pride to support their families," said Marc Liandier, ICRC's Physical Rehabilitation Programme (PRP) manager based in Juba.
Due to recurrent armed hostilities and violence, the number of people in need of physical rehabilitation services throughout the country remains high. In partnership with national and local authorities, the ICRC provides services across three Physical Rehabilitation Centres it supports in Juba, Rumbek, and Wau. The ICRC started the rehabilitation program in South Sudan in 2009.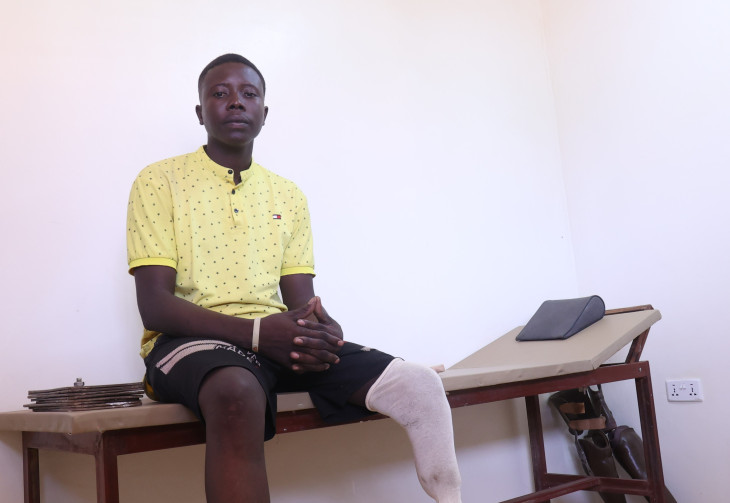 These three facilities provided rehabilitation services to 3,161 individuals in 2022. The former Wau Center provided services to 870 people from the region. An estimated 45,000 residents of Greater Bahr el Ghazal need physical rehabilitation, and the new center is anticipated to serve approximately 2,000 individuals annually in the coming years.
"In the previous centre, we would come from far and wait for long hours. There was so much work within a very small space and sometimes there was nowhere to sit. This new place is spacious, and here we receive services faster and in time," said Luka John, one of the service users who regularly visits the facility for prosthesis, after losing both his limbs to gunshots.
He also added that the newly constructed dormitories would greatly help people coming from the neighboring states with accommodation during their treatment.
END
Notes to Editors:
Key statistics:
The World Health Organization (WHO) estimates that 0.5% of South Sudan's population (a minimum of 60,000 people) require prosthetics and orthotics services, and 2% (about 240,000 people) requires a wheelchair.
 The United Nations Convention on the Rights of Persons with Disabilities protects the rights and dignity of people with disabilities. In February 2023, the president of the Republic of South Sudan signed the convention into law.
The ICRC works in partnership with the National Ministry of Gender, Child and Social Welfare to provide physical rehabilitation services in three PRCs in Juba, Rumbek and Wau.
 The ICRC launched the Physical Rehabilitation Programme (PRP) in South Sudan in 2009, with the establishment of the Physical Rehabilitation Reference Center in Juba.
ICRC's global Physical Rehabilitation Programme was established in 1979 to improve the quality of life of people with physical disabilities. Worldwide, over two million persons with disabilities have been treated in the past 40 years through this Programme.
For more information, contact:
Aidah Khamis Woja, Public Relations Officer, ICRC Juba, +211 925230500
Dut Peter Garang, COM Field Officer in Wau, +211925674131/ +211 912180129