Three nurses dedicate their careers to humanitarian help
Three nurses in Sabah, Malaysia, share stories of how they became humanitarian workers. Although they no longer work in health-care facilities, they are still committed to promoting health programmes, especially those benefiting local communities.
Takes on nursing to get involved in humanitarian aid work
Donnie Leong, who was an active member of the Malaysian Red Crescent Society (MRCS) since primary school, now works with the International Committee of the Red Cross (ICRC) as head of office in Kota Kinabalu, Sabah.
In 2010, when he learned that a group of doctors and nurses from Sabah were setting out on a humanitarian assignment to the Gaza Strip, he went to see them off at the Kota Kinabalu International Airport along with several MRCS members from Keningau. Little did he know that this would soon become a turning point in his life. He was surprised to see most of them dressed in brand new Red Crescent uniforms, indicating they were new members. After all, he'd never had the opportunity to take part in an overseas humanitarian assignment, despite volunteering with the MRCS for over 20 years. Thinking it could be because he did not have medical qualifications, Donnie took it as a challenge to obtain one.
Quits business to study nursing
Donnie shut down two of his printing shops and spent a year preparing to study nursing. He then enrolled himself in a three-year nursing course in 2011. By then, he was 34. 
"I was an 'old student' and most of my lecturers were also younger than me. But I didn't care, because my goal was to take part in humanitarian aid missions one day." 
After graduation, Donnie worked in the Intensive Care Unit (ICU) of the Prince Court Medical Centre (PCMC) in Kuala Lumpur for a year and a half before returning to Sabah to serve as a health field officer in the ICRC's Sabah office. He was promoted to Head of Office in October 2021. 
Faces opposition, proves nursing offers various career choices
Being able to work at the ICRC is a "bonus" says Donnie, as he earns a monthly income in addition to working in the humanitarian field. He recalls how his family, close friends and relatives strongly opposed his decision to study nursing calling it a low-level, non-professional job that involves handling human excrement. "I've proven that nurses enjoy a wide range of career options that is not limited to the hospital or medical contexts, and that they're also paid well."

'The International Red Cross and Red Crescent Movement is neutral and unique'
Donnie says the International Red Cross and Red Crescent Movement is unique, especially because of its principle of neutrality, which is to remain neutral regardless of race, religion, ideology, etc., and to reach people in need. The Movement is the world's largest humanitarian network with a mission to alleviate human suffering, protect human life and health and respect human dignity, especially in armed conflict and other emergencies. It comprises the ICRC, the International Federation of Red Cross and Red Crescent Societies (IFRC) and 192 National Red Cross and Red Crescent Societies. Since joining the ICRC seven years ago, Donnie has travelled to Geneva three times, Nepal once and Bangkok once for training. The opportunity to embark on a humanitarian mission to conflict-affected areas hasn't come his way yet – but he will surely seize it when it comes.
Teaching communities first aid using available resources
The ICRC's Sabah office currently has three staff members including Donnie. Their main activity is to work alongside the MRCS in carrying out health-care initiatives, particularly training community health volunteers. Donnie says the training, called Basic First-Aid 'Harmonisasi' (FATH), is different from a standard first-aid training and can be described as an adapted version of basic first aid. It guides participants to adapt to local contexts and use locally available materials, including household items, for first aid. This is helpful for people living in remote areas who can administer first aid before ambulances or medical personnel arrive in case of an emergency.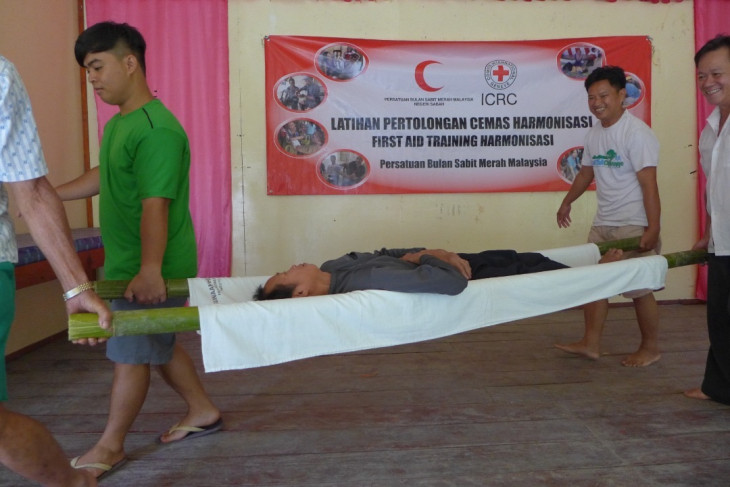 Donnie says the ICRC also works closely with the MRCS and the Ministry of Health to conduct community-based health training to prevent outbreaks of communicable diseases.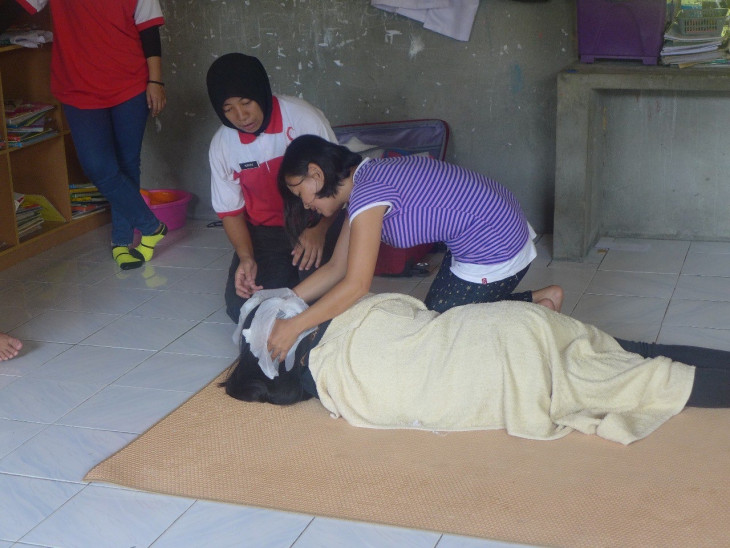 Community health volunteers play an important role
Since 2015, they have conducted training sessions in more than 30 villages, seven of which have established groups of community health volunteers. They also go back to the communities up to four times a year for ongoing training, while maintaining contact with local volunteers.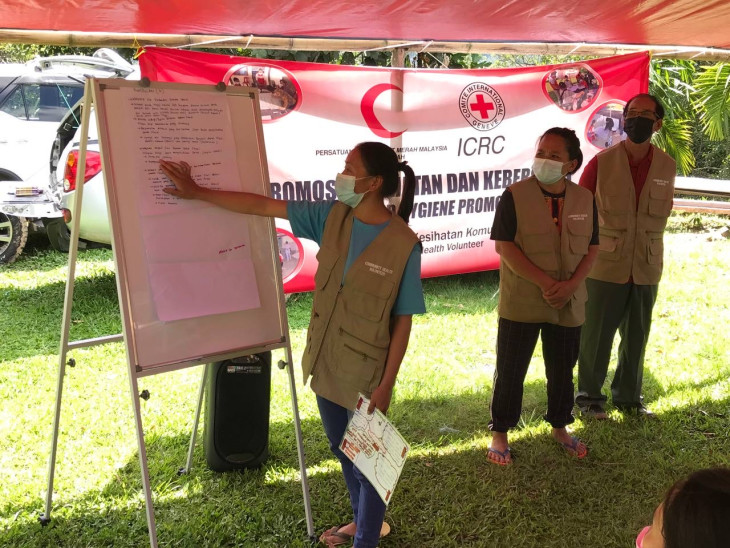 Seeing a gap in medical facilities, Brenda returns to serve Sabah
Brenda Bronica James, Donnie Leong's colleague, is a health project coordinator for the MRCS branch in Sabah. After obtaining a Bachelor of Nursing degree from the National University of Malaysia (UKM) in 2019, the Ranau native wanted to use her expertise to serve communities in Sabah. Becoming a nurse was never Brenda's ambition. After completing matriculation, she only chose nursing on her mother's suggestion as she was not sure what to study at the time. Not really interested in the course, Brenda struggled during her first year at university. It was only during her internship that same year when she realized that her career options were not limited to working in hospitals and her outlook to nursing completely changed.
Looked down upon for studying nursing
The 27-year-old admits that she was ridiculed for taking up nursing. With her peers entering fields like biotechnology, education, veterinary medicine, etc., she would often be asked why she chose to study nursing. But Brenda found her passion in nursing and, keen to bring her learnings back to Sabah one day, did her best to absorb as much knowledge and experience as possible during her university years.
"I saw the huge gap in the medical facilities between West Malaysia and Sabah, so I wanted to come back to Sabah to serve the communities if there was such an opportunity." After graduation, she worked as a nurse at the National Heart Institute in Kuala Lumpur from July 2020 for about a year and a half before returning to Sabah in March 2021 to join the MRCS.
Educating people in health care
Brenda's main task is to provide health-care education and teach basic first aid to local communities, especially those living in rural areas far from medical facilities. All the places she and her colleagues visit lack accessible roads and communication facilities and each programme is designed according to the village's specific problems or needs.
Before carrying out our activities at a particular place, we do assessments, which include getting feedback from clinics, villagers, schoolteachers and the district's health department, to understand local needs and develop relevant training content.
Currently, the focus is on infectious diseases such as malaria, cholera and dengue fever." She adds that the activities also help to address any misconceptions that the villagers may have about certain health issues.
Most satisfying when villagers cherish the efforts
Serving remote communities is both interesting and challenging for Brenda and she feels most fulfilled when the villagers value what they do. "There are still many villages in Sabah and we've only reached a small segment of them. I hope we can expand the effort and reach more villages in the future to benefit more villagers."
Touched by the care for patients, Syazwan decides to become a nurse
Mohd Syazwan Obong, a 26-year-old from Kota Kinabalu, has been working as a health field officer at the ICRC's Sabah office for more than two years. Syazwan, who got a Bachelor's degree in Nursing from UKM in 2019, had his mind set on becoming a nurse since he was in secondary school. He shares that he used to often accompany his mother and elder sister for treatment at the hospital and was moved by how the nurses took care of patients. "As nurses, we always look after others, instead of our own family. We take good care of others, hoping that our family would also receive good care from nurses when they are in need. This is why I wanted to become a nurse. I hope to take good care of others, so that they too can become caring people."
Working in community to help the vulnerable
Syazwan says he did not have any knowledge of humanitarian work till he took a course by a humanitarian organization. He now spends most of his time with the communities and his work involves talking to villagers and getting feedback on health issues that they face. After gathering the information, his team organizes health and hygiene activities to address these issues. The areas he and his colleagues travel to are among the most impoverished and remote places, including areas where stateless people live. With relevant knowledge, these vulnerable groups can take precautions or provide first aid when needed. "We don't want them to feel abandoned by society because they do not have access to health care."
'Humanitarian aid is not limited to war zones'
Syazwan says though many may think of humanitarian assistance as only the help provided in areas of armed conflict, people in need of humanitarian aid can be found anywhere and at any time.
"Even in the communities where we live, there may be someone who needs our help. Alone we cannot help everyone, but together we can help more people," he says.