Ukraine: Urgently needed assistance delivered to people trapped in Debaltseve
This weekend, the ICRC delivered food, medical supplies and other essential items to the roughly 5,000 people trapped in the town of Debaltseve by heavy fighting over the past week. The struggle for control of this key transportation hub had been going on for several days after the ceasefire that came into force on 15 February.
"We arranged for humanitarian aid to be delivered as soon as the security situation allowed," said Joan Audierne, head of the ICRC's office in Donetsk, who led the five-truck ICRC humanitarian convoy that carried much-needed aid to Debaltseve. "The humanitarian situation is dire, and needs are acute and diverse. The shelling has caused an enormous amount of damage and destruction, to public and residential buildings, and to the town's infrastructure. People have been living in basements for the past few days, and they are coming out only now, after the fighting has ended."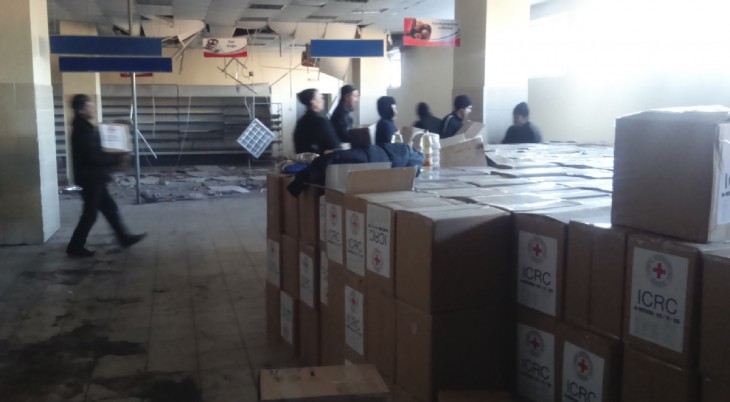 Food and other essential items, such as blankets, tarpaulin and candles, will enable people in Debaltseve to meet their basic needs for the next two weeks. As the local hospital remains closed, the ICRC, along with other humanitarian organizations, donated medical supplies to the only functioning primary-health-care post in the town. "We remain committed to continuing to address the situation in Debaltseve in the near future," said Michel Masson, the head of the ICRC's delegation in Ukraine. "We only hope that the security situation will let us do so."
The ICRC, in close cooperation with the Ukrainian Red Cross Society and the local authorities, assists residents and displaced persons on both sides of the front line in the Lugansk and Donetsk regions.
For further information, please contact:
Ashot Astabatsyan, ICRC Kiev, tel: +380 67 509 42 06
Jean-Yves Clémenzo, ICRC Geneva, tel: +41 79 217 32 17