The World Bank, ICRC and UNICEF launch a report on joining forces in humanitarian and development collaboration to improve responses to protracted crises
Beijing, 9 July 2021 – The World Bank, the International Committee of the Red Cross (ICRC) and the United Nations Children's Fund (UNICEF) recently launched a report titled 'Joining Forces to Combat Protracted Crises: Humanitarian and Development Support for Water Supply and Sanitation Providers in the Middle East and North Africa.'
News release
09 July 2021
Globally, around 2 billion people do not have access to safe drinking water, and nearly half of the world's population – 3.6 billion people – lack safe sanitation. Vulnerable people – especially children and women – living in fragile and conflict-affected situations are disproportionately affected. Water and sanitation are priorities in both humanitarian and development work, but evidence shows that a lack of collaboration in conflict and violence-affected contexts between humanitarian and development support agencies is increasing costs, reducing effectiveness, and ultimately hampering efforts to reach the most vulnerable and marginalized people.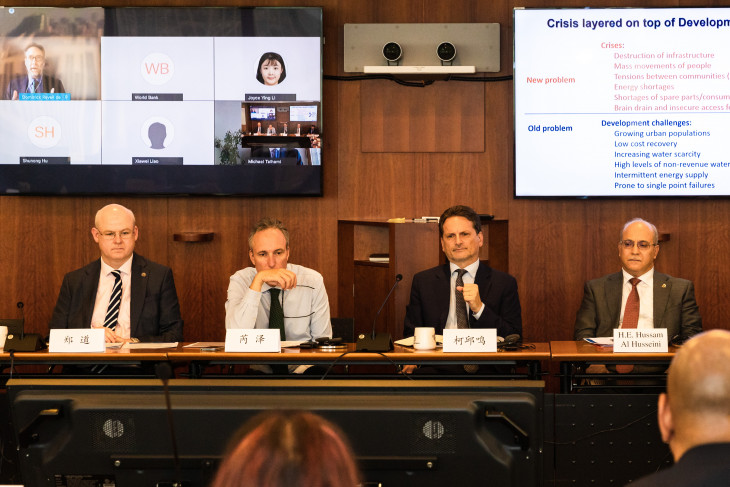 In a protracted crisis, it should be a standard requirement for humanitarian and development actors to coordinate and align their interventions to support the resilience building of water supply and sanitation (WSS) service providers,
said Dominick de Waal, Senior Economist of the World Bank and the lead author of the report.

Protracted crises in urban contexts of the Middle East and North Africa region are severe challenges for WSS service providers. The multi-partner report released on 5 March 2021 examines five pernicious problems identified by local WSS service providers working in Iraq, Jordan, Lebanon, Libya, Palestine, Syria and Yemen. Problems include poor water governance, rising energy costs, aggressive competition from alternative private water supply providers, failing wastewater treatment facilities, and reduced cash flow. The report also sets out how humanitarian and development actors could collectively improve their ability to anticipate and respond to protracted crises. The report is available here.

"In most of the protracted crises in the Middle East and North Africa, ICRC has witnessed the severe humanitarian impacts caused by failing water and sanitation systems. Often these systems are aging, overloaded, and were never designed to endure periods of conflict and instability. While short-term quick fixes may be essential for acute emergencies, longer-term investments need to be made for more durable, scalable and resilient infrastructure and services. It is a more cost effective and sustainable approach for meeting the needs of the affected civilian population", said Pierre Krähenbühl, Personal Envoy of the ICRC President to China and Head of the ICRC Regional Delegation for East Asia.
The ICRC believes that a strong partnership needs to be forged between humanitarian and development actors, together with local service providers, to strengthen the resilience of essential services before and during protracted crises.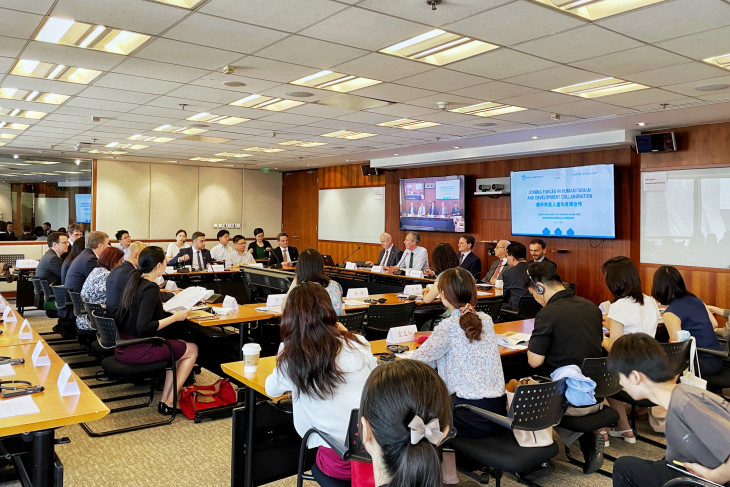 The launch event provided a platform for development and humanitarian professionals to share reflections on the challenges and opportunities in the delivery of water and sanitation during protracted crises. The authors of the report delivered keynote addresses, which were followed by a panel discussion. Attendees shared experiences from the field, examples and practices of complementary humanitarian development collaboration, as well as mechanisms, tools and approaches for building resilience while reinforcing the emergency response to address urgent needs. Stronger collaboration between humanitarian and development actors was highlighted as key to improving preparedness before crises, as well as responses during crises.


The only way to strengthen the WASH sector's resilience is for development and humanitarian actors to work jointly and collaboratively before, during and after crises. And the Joining Forces for Combating Protracted Crises Report and this event are a clear demonstration that this is not impossible.
said Omar El Hattab, Senior WASH Advisor from UNICEF, and a co-author of the report.

Attendees to the launch event who joined in-person or remotely included representatives from the Government of China, international organizations, embassies, research institutions, and other organizations in China.