Yemen: Health system crippled, fuel shortage alarming
After a month of airstrikes and fighting, Yemen's health system is struggling to cope and there are severe shortages of essential items especially food and fuel. Import restrictions have made the situation worse. The surgical team from the ICRC and all local staff and patients were forced to evacuate Aden's Al Jamhouria hospital when the building itself became a front line in the fighting.
"We are shocked by the lack of respect for the hospital, as a neutral health facility, by the fighting parties," said the head of the ICRC delegation in Yemen, Cedric Schweizer. "Under no circumstances should this be happening, and under no circumstances should hospitals be targeted or used for fighting purposes. Our team had been working in that hospital for three weeks but, after all the patients and staff were put at risk, the hospital had to be vacated."
Every morning in the capital, Sana'a, there are huge queues at petrol stations. The situation is similar across the country. This comes on top of water and electricity shortages.
"We are facing tremendous logistical difficulties in trying to keep this hospital working," said the head of Al Kuwait Hospital in Sana'a, Issa Alzubh. "We are running out of diesel. Our ambulances can no longer transport patients. Only half of our staff can come to work as the hospital buses have stopped running."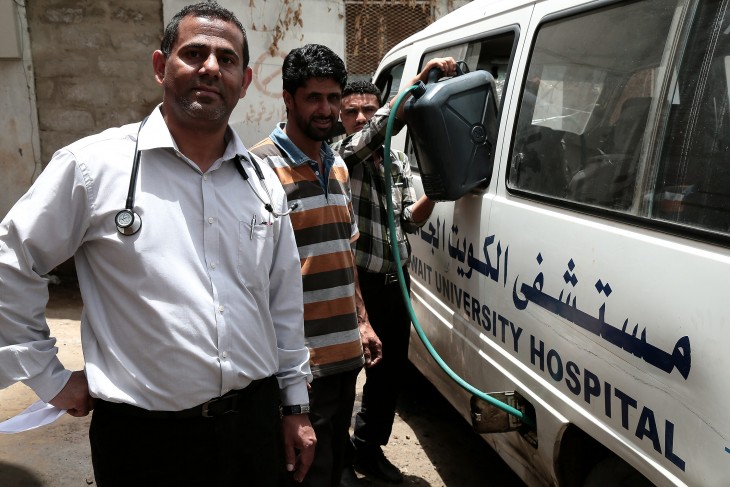 A senior doctor in Al Kuwait's emergency unit , Zine El Abidine, said the severe shortage of lifesaving supplies in hospitals was due to the lack of essential imports. "We used to have our own oxygen factory, but now production has stopped as maintenance and spare parts can no longer be brought in. So now we are relying on oxygen cylinders from outside. And when they run out, then what?"
The ICRC has maintained contact with key health facilities around the country that stabilize, treat and transfer the wounded to hospital. To date, the ICRC has provided dressing materials, IV fluid, stretchers, crutches and medication to more than 15 hospitals in Sana'a, Saada, Maareb, Taiz, Aden, Abyan and Al Dhalea provinces. Fuel was also supplied to three main hospitals in Saada, Abyan and Aden.
For further information, please contact:
Marie Claire Feghali, ICRC Sana'a, tel: +967 73 607 19 67, +967 71 194 4343
Sitara Jabeen, ICRC Geneva, tel: +41 22 730 24 78 or +41 79 536 92 31