Health Care - working with us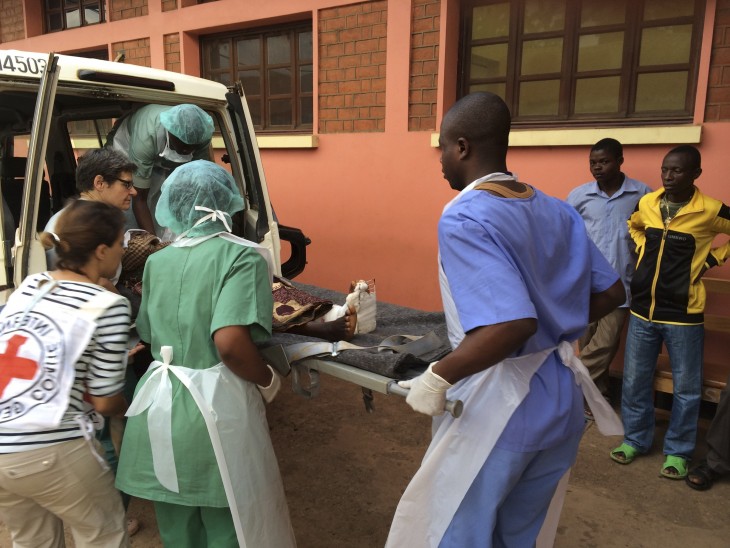 Treating and caring for the wounded and sick in armed conflict, other major violence and natural disasters has always been bound up with the history, identity, values and reputation of the International Committee of the Red Cross (ICRC). Today, in an increasingly unstable and violent world and an extremely challenging humanitarian environment, the ICRC continues to address the main issues affecting people's health. While our traditional health activities (first aid, war surgery, physical rehabilitation and health care in detention) have lost none of their relevance, other disciplines (primary health care, comprehensive hospital care, and mental health and psychosocial support) are increasingly proving their worth. The ICRC has made a clear commitment to providing high quality and accountable health programmes, designed to meet professional standards. We often work in partnership with other organizations to bring together experts from different fields. The Health Care in Danger project is one such partnership, which aims to ensure that access to health care is not denied through attacks or obstruction.
Below is a non-exhaustive list of mobile field functions hired by the ICRC.
Please note that all positions are not continually open.
Primary Health Care
see also our video

Primary Health Care (PHC) Doctor/Nurse
APPLY

- Degree in Medicine or Nursing. Valid medical or nursing license to practice in your country of residence
- Doctors and nurses must have a minimum of three years clinical experience in their field of expertise
- Minimum of two years international experience at field level in different contexts
- Post graduate degrees in Public Health and Tropical Medicine are strong assets
- Excellent command of English and at least one other language of ICRC interest: French, Arabic, Spanish and/or Russian
- Driving license (for manual transmission vehicles) with regular practice
- Willing to accept no family postings (i.e. no spouse, partner, children or dependents) for the first two assignments (minimum 12 months each)
- Commitment to the ICRC's humanitarian mandate
Nutritionist
APPLY

Your profile
- Strongly motivated by humanitarian work
- Ready to work in a multidisciplinary team and strong capacity of collaboration
- Ability to work under pressure, in a dangerous environment
- Open-minded and adaptable, empathic and diplomatic 
- Good speaker, well-developed writing and summarizing skills
- Ability to take relevant decisions within a given framework
- Experience of work with the Red Cross Red Crescent Movement is an asset

Selection requirements
- Masters qualification in nutrition
- University degree in the fields of agronomy, veterinary, anthropology, medicine, nursing, or public health is an advantage
- Minimum of 5 years professional experience in international humanitarian work and field missions abroad, especially in emergencies
- Very good command of English and French.
- Knowledge of another ICRC working language used in the field (Spanish, Arabic or Russian) is a strong advantage
- Familiarity with word processing, spreadsheet software and basic nutrition computer programmes
- Commitment to the ICRC's humanitarian mandate

Our operational & field constraints
- In line with the principle of neutrality, the ICRC does not assign personnel to a country of which they are nationals
- Candidates must be in good health and will have to do a medical check-up prior to departure in the field (web link)
- Driving licence (for manual transmission vehicles)
- Candidates must be prepared to accept unaccompanied postings (i.e. no spouse, partner, children or dependents) for at least the first two years
Hospital Services
see also our video
Operating Theatre (OT) Nurse
APPLY

- Degree in nursing and a valid license to practice in your country of residence
- Minimum of three years' experience plus a further two years specialized post-degree clinical experience, or at least five years of recent experience in this domain
- Excellent command of English. Knowledge of another language of ICRC interest: French, Arabic, Spanish and/or Russian is a strong asset
- Driving license (for manual transmission vehicles) with regular practice
- Willing to accept no family postings (i.e. no spouse, partner, children or dependents) for assignments of 6 months minimum
- Commitment to the ICRC's humanitarian mandate
Paediatrician
APPLY

- Degree in Medicine and a valid license to practice in your country of residence
- Minimum of two years' experience post Pediatric specialty degree
- Excellent command of English. Knowledge of another language of ICRC interest: French, Arabic, Spanish and/or Russian is a strong asset
- Driving license (for manual transmission vehicles) with regular practice
- Willing to accept no family postings (i.e. no spouse, partner, children or dependents) for preferably assignments of 3 months or more
- Commitment to the ICRC's humanitarian mandate
Emergency Room Specialist
- Degree in Medicine and a valid license to practice in your country of residence
- Minimum of two years' experience post Emergency specialty degree
- ATLS, ALS or MIMMS certifications are strong assets
- Excellent command of English. Knowledge of another language of ICRC interest: French, Arabic, Spanish and/or Russian is a strong asset
- Driving license (for manual transmission vehicles) with regular practice
- Willing to accept no family postings (i.e. no spouse, partner, children or dependents) for preferably assignments of 3 months or more
- Commitment to the ICRC's humanitarian mandate
Anaesthetist
- Degree in Medicine and a valid license to practice in your country of residence
- Minimum of two years' experience post Anesthesiology specialty degree
- Significant experience in management of emergencies and trauma cases
- Excellent command of English. Knowledge of another language of ICRC interest: French, Arabic, Spanish and/or Russian is a strong asset
- Driving license (for manual transmission vehicles) with regular practice
- Willing to accept no family postings (i.e. no spouse, partner, children or dependents) preferably for assignments of 3 months and more
- Commitment to the ICRC's humanitarian mandate
Orthopaedic Surgeon
- Registered specialist orthopedic surgeon with valid license to practice in your country of residence
- Minimum of five years recent and strong experience/expertise in the treatment of patients suffering from infected nonunion
- Familiar with limb injuries and their long term complications, including techniques such as the masquelet procedure and basic plastic principles of soft tissue management - pedicled flaps, etc...
- Excellent command of English. Knowledge of French and/or Arabic is an asset
- Driving license (for manual transmission vehicles) with regular practice
- Willing to accept no family postings (i.e. no spouse, partner, children or dependents) preferably for assignments of 3 months or more
- Commitment to the ICRC's humanitarian mandate
Health Care in Detention
see also our video
Detention Doctor
- Degree in Medicine with a valid medical license to practice in your country of residence
- Minimum of three years clinical experience in general medicine with sound knowledge in communicable diseases, a must
- Be able to demonstrate a clear motivation for the Health Care in Detention field
- Previous experience in Prison Health and Health System is an asset
- Experience in Project Management Cycle
- Excellent command of English and another language of ICRC interest: French, Arabic, Spanish and/or Russian
- Driving license (for manual transmission vehicles) with regular practice
- Willing to accept no family postings (i.e. no spouse, partner, children or dependents) for the first two assignments (minimum 12 months each)
- Commitment to the ICRC's humanitarian mandate
Physical Rehabilitation
see also our video

Ortho-prosthetist
- Recognized training as an orthotist-prosthetist (ISPO Cat.1 or equivalent)
- Minimum of three years professional experience in the manufacture of prostheses and orthoses
- Excellent command of English. Knowledge of another language of ICRC interest: French, Arabic, Spanish and/or Russian is a strong asset
- Driving license (for manual transmission vehicles) with regular practice
- Willing to accept no family postings (i.e. no spouse, partner, children or dependents) for the first two assignments (minimum 12 months each)
- Commitment to the ICRC's humanitarian mandate
Mental Health & Psychological Support
see also our video

Psychologist
- Degree in psychology with relevant training for clinical practice. Valid license to practice in your country of residence
- Minimum of two years international field experience working directly with various populations and cultures
- Extensive knowledge in public mental health. Integrated MHPSS interventions models in promotion/prevention and treatments at primary and secondary health care level
- Proven capacity in planning MHPSS support programs and community health interventions in line with the psychological and psychosocial consequences of violence
- Significant experience in training and supervision processes
- Excellent command of English and another language of ICRC interest: French, Arabic, Spanish and/or Russian
- Driving license (for manual transmission vehicles) with regular practice
- Willing to accept no family postings (i.e. no spouse, partner, children or dependents) for the first two assignments (minimum 12 months each)
- Commitment to the ICRC's humanitarian mandate
Responsable du support en santé mentale et soutien psychosocial (SMSPS) - Mali
- Formation diplômante/expérience en lien avec les violences sexuelles et/ou basées sur le genre, la psychologie, le travail social
- Formation en "counseling", en support psychologique de base ou autres formations équivalentes
- Minimum 5 années d'expérience pratique auprès de victimes de violences sexuelles
- Excellent niveau de français parlé et écrit
- Permis de conduire manuel avec pratique de conduite
- Prêt à effectuer une mission de 12 mois non accompagnée (sans conjoint/e, partenaire, enfant(s) ou autres personnes à charge)
- Commitment to the ICRC's humanitarian mandate
Facts & figures
170
new health professionals recruited in 2015
over 700
health professionals applications received in 2015
394
mobile field health professionals deployed in 2017