A complex panorama of abuses in Colombia
Humanitarian challenges 2020
New dynamics in the violence, coupled with old types of behaviour by armed actors, draw a complex map of increasingly destructured armed groups, hindering our ability both to analyse the situation and to respond appropriately to people's needs.
There has been no decrease in abuses linked to the violence, which take on a different form in each region of the country. The main challenges facing us as humanitarian workers, as well as other organizations and State bodies, are thus still the following: identifying the structures of the armed factions, and establishing a dialogue with them to remind them of their obligation to comply with humanitarian rules and explain the importance of allowing us to reach the victims.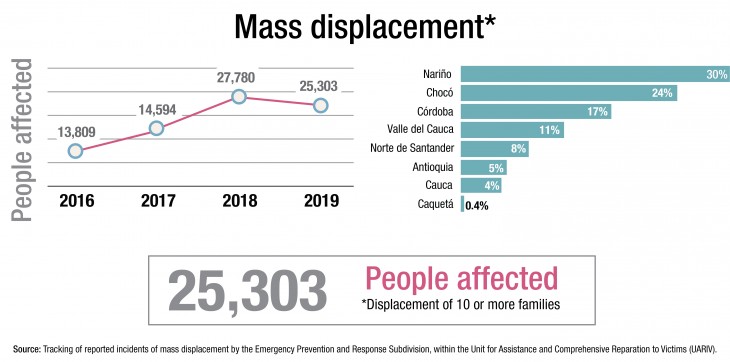 In 2019, we noted continuing trends in the violations perpetrated. Thus, many of the victims used by members of armed groups for their activities were then abused sexually. Other groups sometimes made them disappear or killed them in retaliation.
The victims' families were usually also threatened and had to flee their homes and keep silent. The atmosphere of fear, coupled with the sad normalization of many of these practices, hinders efforts to find out about more cases and take any preventive measures to protect potential victims.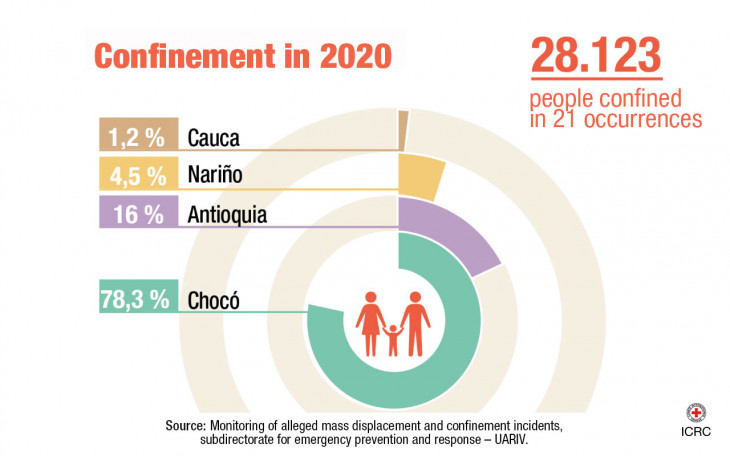 The phenomenon of under-reporting also complicates steps to resolve the issue of missing persons, which currently total over 83,000*, with no sign of the problem waning. In 2019, we recorded 93 new disappearances in Colombia.
Although we obtained information about 913 of the 2,158 people we are searching for, only 116 cases were resolved (5 per cent of the total). This shows that finding those who have gone missing is a gargantuan task that will take many years, and which the Missing Persons Search Unit is working hard to solve, together with other institutions.
Security conditions must first improve so that the families can come forward and report their cases. All armed players must also fully recognize their obligation to provide any information they have to help locate people who have disappeared in their areas of influence. If there is no will to end the spiral of pain that too many Colombians are enduring, the answers, so necessary in these moments of uncertainty, will remain on paper alone.
Migrating to conflict zones
Against this already difficult backdrop, over 1.6 million migrants**, including refugees, who are passing through or have settled in areas of Colombia affected by conflict and armed violence, are particularly vulnerable. They are exposed to different kinds of abuses and risks, and many of them are afraid to seek help, face xenophobic reactions and have scant knowledge of their rights.
Wide-ranging action is urgently needed to support communities that have suffered the ravages of over half a century of conflict and today are taking in migrants, as well as some 500,000 Colombians*** who have returned to their country.
---