"Conflict sets the clock back to zero" – a career in humanitarian healthcare
We sat down with Vivien Lusted, an ICRC health program manager from Loughrea, County Galway, about the challenges she faces and how she stays motivated.
Vivien always dreamt of being a nurse and working overseas.
Her life changed when she got her first humanitarian position with Concern, working in primary healthcare in Cambodia.
"Since I was young, I've always been interested in other countries and cultures. I read a lot of books and this sparked a desire to go overseas. I wanted to help others.
"In my naivety I thought it would be easy, but I learnt that wanting to help is not enough; you have to invest your heart and soul in the work - and the life it brings with it."
After three years in Cambodia, Vivien began working with the Irish Red Cross and was seconded to the ICRC for a mission in Somalia.
In her career with ICRC and the Irish Red Cross she has worked in Somalia, Sudan, Israel, Nigeria, Sri Lanka, Liberia, Myanmar and Iraq and a number of other countries.
When war breaks out, everything crumbles
As a nurse working in conflict zones Vivien has seen first-hand how conflict decimates health systems.
"The nature of conflict has changed, but unfortunately it's still having the same results – it's still people who suffer at the end.
"Conflict sets the clock back to zero. Some countries make improvements in their health care systems, but then the minute war breaks out, everything crumbles.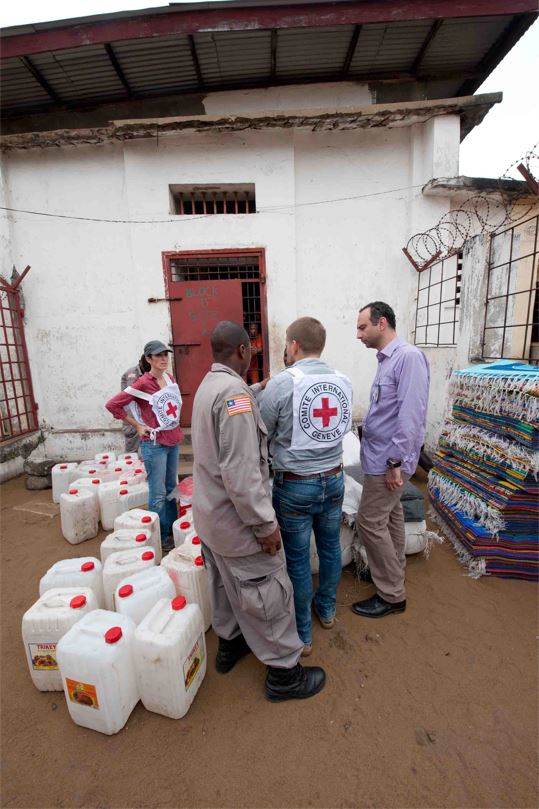 Nothing is simple
In Iraq, Vivien worked as a nurse in temporary detention centres in Mosul, during the war. Providing healthcare for detainees in this setting was challenging but Vivien was determined to find a way to help.
"Nothing is ever simple. But for me personally, I always aim to turn things that are difficult into a challenge. It just gives you that motivation to want to find answers.
Our end goal is always to help that person in need."
Following her work in Iraq, Vivien was one of just five Irish nurses to receive the prestigious Florence Nightingale award since it was established over a century ago. The award, which recognises 'exceptional devotion and courage in the care of the wounded and sick as well as key contributions to the fields of prevention, public health or nursing education' is the highest international honour in Nursing.
Inequalities are widening
Vivien's current role as a health programme manager based in Bangkok, Thailand has seen her responding throughout the COVID 19 pandemic.
For Vivien the pandemic highlighted persistent health inequalities that exist in conflict-affected countries.
"Right now, we're trying to understand what's happened since COVID hit so we're focusing on understanding the impact on communities and what they need from us.
"In Cambodia I'm following up with our team there and with the authorities on health care in the prisons as well as what support is needed during COVID. In Thailand, I'm assessing the situation in the north of the country, finding out the health needs of displaced people."
A greater understanding
Experiencing the global pandemic while working in Africa and South East Asia and supporting vulnerable communities has given Vivien a different perspective.
"I think it's difficult for people who haven't lived through conflict to imagine it. But perhaps living through COVID gives people back home a glimpse into what it can be like to experience that: One moment, life is normal, and then suddenly you can't go out, can't see your family and friends, can't go to work.
"Maybe we're feeling a little bit of what other people feel when conflict changes everything. When the schools are gone, the infrastructure, the water, where you get your food, how you live - your income – all gone."
People who care can make a difference

When Vivien goes home - she has an apartment in Galway City - people sometimes ask her if she finds her work depressing. Not at all, says Vivien.
"There is a lot of goodness in the world. Despite all the war and conflict that I've seen, I know there are people like my colleagues who care and who want to achieve something.
"Of course, there are always frustrations in this work; when you see there's a problem and you want to help but maybe because of circumstances or security you can't.
"But for me personally, I always aim to turn things that are difficult into a challenge. It might not be easy. It might not happen today. But it will."