Displaced by an attack in north-east Nigeria, now a woman leader
On a typical day, 35-year-old, Jummai Mohammed starts her day by performing early prayers then proceeds to get her children ready for school. Between her 8 am and 4 pm work shift, she goes back home to prepare lunch and fetch water from a nearby borehole.
The mother of six from Borno State has been living in Gubio camp in Maiduguri, following an attack that left her and her six children displaced. Her husband had been killed in a previous attack. Gubio camp is one of the many camps that is playing host to more than 30,462 internally displaced people (IDPs). Sadly, 80% of the displaced population in northeast Nigeria are women and children.
On one fateful day, armed people attacked the market in Gamboru town where Jummai and her family were living, and they burnt down the police station and many shops. During the incident, Jummai's husband was shot and killed instantly. At the time, she and had children had fled for safety into the bush only to come home the following morning and receive news that her husband was one of the people who had been killed.
Barely three weeks later, their town came under attack once again. "We thought it was the usual attacks, that they would come and do whatever they did and then leave," narrates Jummai. Together with her mom, children, and brothers, they managed to cross the border to Fotokol in Cameroon where they lived for six months. While there, another attack claimed the lives of her uncle and his son.
Jummai and her family members managed to move to Adamawa State in Nigeria and were later resettled by the local authorities in Gubio Camp where they have lived for the past 5 years.
Support mothers and children in conflict zones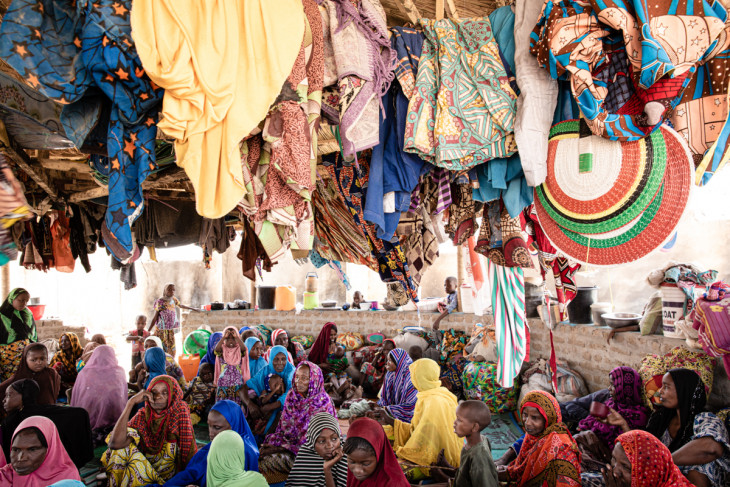 Life in the camp has not been easy, particularly for Jummai and the other women, who have had to take up the role of both father and mother for their children. Amidst all these challenges, Jummai is happy when supporting her peers. As a women's leader in the camp, Jummai holds sessions twice a month with an average of 25 women per session.
Her sessions aim at helping women open up about issues like child welfare, psychological situations, and livelihood challenges and she helps them to overcome them. Jummai believes that since the camp hosts people from different tribes, languages, and cultural backgrounds, it has resulted in challenges such as discrimination, tribalism, and varying traditional beliefs.
Over the years, her passion for addressing issues pertaining to the stigmatization of women formerly in armed group captivity has grown and she supports them to learn how to deal with these situations as they arise even within the camp. Some of the women and/or their children, face stigmatization and discrimination from their family, authorities, and the people they live with. Sometimes, the children referred to as "the children of the armed group" still face the stigma which makes it difficult for them to integrate.
For those formerly in the hands of armed groups, Jummai conducts specific "support sessions for women and girls", where they have a safe space to discuss the ordeals they faced. "Many women who have returned feel ashamed of themselves, they can't walk freely in the camp. Men are at times discouraged from marrying them, which makes their lives difficult and some have suffered from depression," says Jummai.
Thanks to the enlightenment created by Jummai's sessions and the psychosocial engagement provided, some women have regained their confidence and raised their awareness and understanding of their situation. The community has accepted them, many of them have since gotten married and around 125 women have embarked on various livelihood ventures.
The most important part of my work is bringing about peaceful resolutions when addressing issues of stigmatization that continues to happen in the camp
Young girls in the camp look up to Jummai and many of them consider her as a role model. She often talks to them about the importance of dignity and self-respect and about contributing to their community. Resolving disputes among people including family members is what she likes most about her leadership role.
Jummai has successfully managed to promote the importance of taking the required pre-marital medical tests among couples in the camp. This has helped to reduce incidents of infection and transmission of the human immunodeficiency virus (HIV) and other Sexually Transmitted Diseases (STDs) among spouses.
Jummai has also contributed to addressing various forms of sexual harassment and/or sexual exploitation which were, at one time, highly prevalent in the camp. She conducts regular meetings with camp authorities and she has recently observed concrete improvements and a significant reduction in cases.
My greatest motivation as a woman leader in the camp is the support I get from my community. Whenever I advise, and it gets accepted, it really motivates me to continue
Support mothers in conflict zones
They overcome all difficulties.
They rebuild their communities.
They never give up.
It's just #WhatMothersDo.
Your support will help mothers in conflict zones to provide for their families and their communities.
Please donate today.