Zimbabwe: Father and son reunited after five years
Elvis Baliwabo was separated from his father during the war in the eastern Democratic Republic of the Congo (DRC) in 2011 when he was only four years old. He is now eight. His mother died in the attack on his village. Elvis did not know if his father, Patrick, had survived. He fled with his uncle, Chance, to Zimbabwe and is now a refugee.
Five years on, Elvis has been reunited with his father, siblings and family friends in Zimbabwe. It was a day full of joy and emotion as they embraced and recounted they were separated and reunited.
How a father and son were separated
In March 2011, an armed group attacked the Baliwabo household in Bukavu district in DRC. Patrick immediately fled, leaving his family behind. Chance fled with Elvis, 132 km to Uvira district where they settled. In 2015, their village in Uvira was attacked forcing Chance and Elvis to flee again.
Elvis and Chance travelled through Zambia to Zimbabwe by boat and truck. On arrival in Zimbabwe, the two made their way to Tongogara Refugee Camp in eastern Zimbabwe. They were immediately registered and settled in the camp.
The never ending search for family
In 2016, Elvis' father, Patrick visited the ICRC office in the Zimbabwean capital, Harare, to request assistance to trace his son through the restoring family links service. Patrick believed that Elvis was still in the DRC.
Elvis had already been registered as a separated child by the Zimbabwe Red Cross Society (ZRCS) volunteer at the Camp and ICRC to enable the tracing of his parents. Prior to Patrick requesting assistance for the tracing of his son, the ICRC had already initiated a search for Patrick in DRC.
Together with the ZRCS, the ICRC listened to and reconciled the stories of Elvis, Patrick and Chance, who was Elvis' guardian at the time. This led the ICRC and ZRCS to conclude that Patrick and Elvis were father and son. After the verification, Patrick requested to be reunified with his son.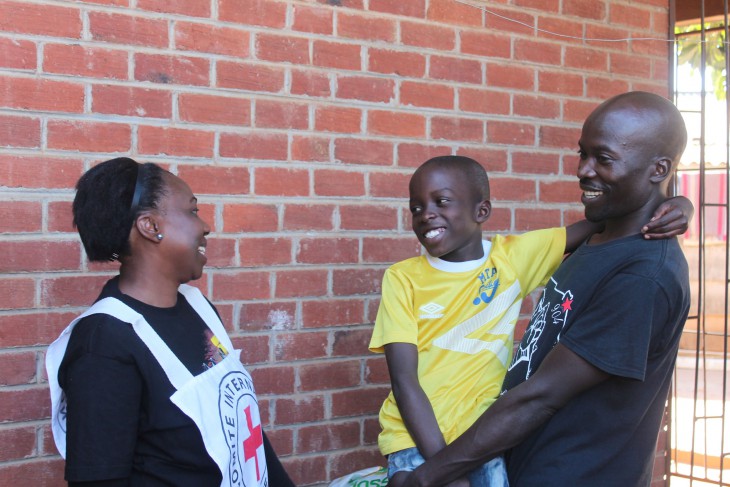 Rebuilding the bonds
In February 2016, the ICRC arranged a visit for Patrick who was now based in Harare to visit Elvis at the Camp. The purpose of the visit was to establish contact between the father and son to assist them to get accustomed to each other before the reunification.
"I am so excited and cannot wait to see Elvis. I left him with other family members when he was still very young and I never imagined that I would see him again," Patrick said as the ICRC took him and his wife to the Camp for the visit.
Soon after meeting his father, Elvis was visibly eager to leave with him.
"I am happy to see my father. The Red Cross volunteer here at the camp is the one who told me about my father and that he was coming. I would like to go with him," Elvis told us with a shy smile, insisting that his uncle could stay behind at the Camp.
Becoming a family again
In May 2016, Elvis moved in with his family with ICRC support to be reunited with his father and the rest of the family, and he continued to go to school.
The ICRC in Southern Africa restores contact between and reunifies family members who have been separated by armed conflict, migration, xenophobic violence, displacement or the consequences of natural disasters. In carrying out these activities, particular focus is placed on assisting separated and unaccompanied children due to their unique vulnerabilities and needs. This humanitarian action is carried out in close cooperation and with the support of National Red Cross Societies in the region.