Iraq: Unimpeded access key to reaching victims of fighting in Ramadi
Geneva/Baghdad (ICRC): The International Committee of the Red Cross (ICRC) has sent emergency food and water supplies to more than 20,000 displaced people who were forced to flee the recent fighting in and around Ramadi, the capital of Anbar province. The delivery of these urgent supplies was made amid a number of challenges on the way to the makeshift camps in Baghdad, Amiriyat Al Fallujah, and Habbaniyya, where thousands more need urgent help.
"It is crucial to have unhampered access to help all those in need," said the head of the ICRC delegation in Iraq Patrick Youssef. "All parties must provide our humanitarian convoys with safe and rapid access so that food, water, and medical supplies can reach the people without delay."
As an initial response to the renewed wave of violence, the ICRC delivered 25,000 one-litre bottles of drinking water to people who fled Ramadi and settled in Amiriyat Al Fallujah and along the road to Baghdad. The ICRC has also been providing food, blankets, hygiene products, kitchen sets, jerry cans and other items to more than 10,000 people.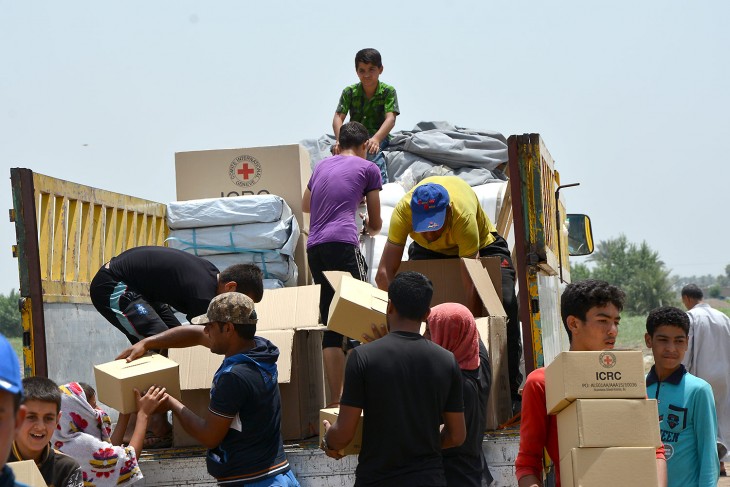 Families receive emergency relief at one camp in the Buzeibiz bridge area of Baghdad.
"There is an increasing number of displaced people suffering from measles, scabies and other contagious diseases. This is because of the poor sanitation, inadequate shelter, and a lack of clean water and access to health care," said Nesrine Ben Ahmed, responsible for ICRC's health programmes in Baghdad.
Before the present wave of displacement, the ICRC, in coordination with the local health authorities, had pre-positioned essential medical items in nearby hospitals. The ICRC has kept the crucial water treatment plant at Al Madina Al Siyahiyyafunctioning and its capacity will be increased.
Since the onset of the recent conflict in Iraq in 2014, the ICRC has been providing life-saving assistance to hundreds of thousands of people affected by the fighting.
The ICRC reminds all parties to the conflict of their obligations, under international humanitarian law, to protect the lives of civilians, as well as to protect medical staff and health facilities.
We sent emergency food and water supplies to more than 20,000 displaced people who were forced to flee the recent fighting in and around Ramadi in #Iraq. The delivery of these urgent supplies was made amid a number of challenges on the way to the makeshift camps in Baghdad, Amiriyat Al Fallujah, and Habbaniyya, where thousands more need urgent help. We remind that all parties must provide our humanitarian convoys with safe and rapid access so that food, water, and medical supplies can reach the people without delay.

Posted by International Committee of the Red Cross on Friday, May 22, 2015
For further information, please contact:
Ralph El Hage, ICRC Baghdad, tel: +964 0790 191 6927
Sitara Jabeen, ICRC Geneva, tel: +41 22 730 24 78 or +41 79 536 92 31
 See also :