Lake Chad crisis: Facts and figures, January - September 2015
In 2015, the ICRC has stepped up its efforts to help some of the many hundreds of thousands of people affected by the Lake Chad conflict who lack even the basic necessities of life. We are building shelters, distributing food and essential household items, facilitating access to medical care and water, visiting security detainees and helping to re-establish contact among families separated by the conflict in Lake Chad.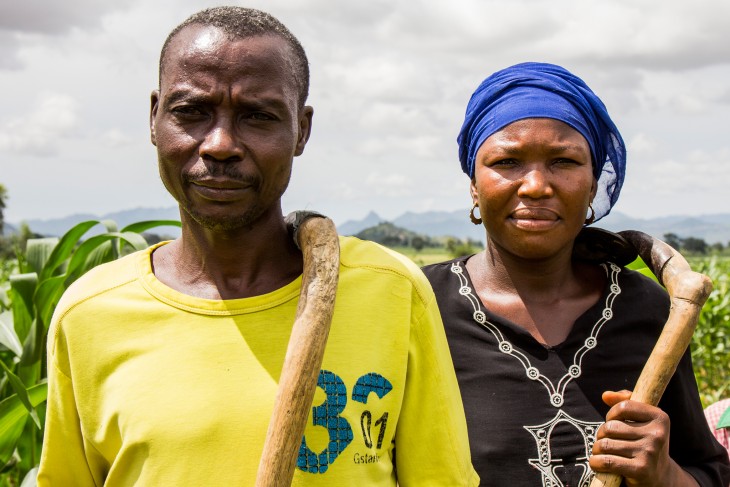 Food, household goods and farming support
Nigeria
325,000 internally displaced persons (IDPs) received food and essential household items.

8,700 families who fled the violence last year and have since returned home received maize seed and fertilizer.

We helped 1,500 women widowed by the conflict.
Cameroon
8,500 families received food, 5,280 of these families also received essential household items.

5,000 families hosting displaced persons between them received 100 tonnes of seed.

Farmers received some 250 tonnes of fertilizer so they could grow staple foods.
Niger
113,000 people received food and 17,500 received household items.

1,000 households received seed.

500 rice producers received fertilizer.

The ICRC dewormed more than 1 million cattle, to increase their productivity and help ensure people in the area had sufficient food.
Chad
The ICRC and the Red Cross of Chad distributed household items to 2,000 families who had fled violence on the islands of Lake Chad.
Health care
Nigeria
We renovated facilities, provided medical supplies/equipment and trained staff at 10 primary health centres, which serve 380,000 people.

15 health facilities in the north-east received first-aid supplies and medicines to help them handle mass-casualty incidents.

An ICRC surgical team at Maiduguri State Specialist Hospital treated people with weapon wounds and IDPs in need of emergency care; 246 people received surgical care, most of them after having been injured in bomb explosions.

We trained 140 medical personnel from hospitals in the north-east in the treatment of people with weapon wounds in mass-casualty situations, such as bomb explosions
Niger
We provided equipment, drugs and personnel to health facilities in Diffa and Bosso.
Chad
We donated supplies for treating people with war-related wounds to the hospital that admitted 75 casualties following two explosions.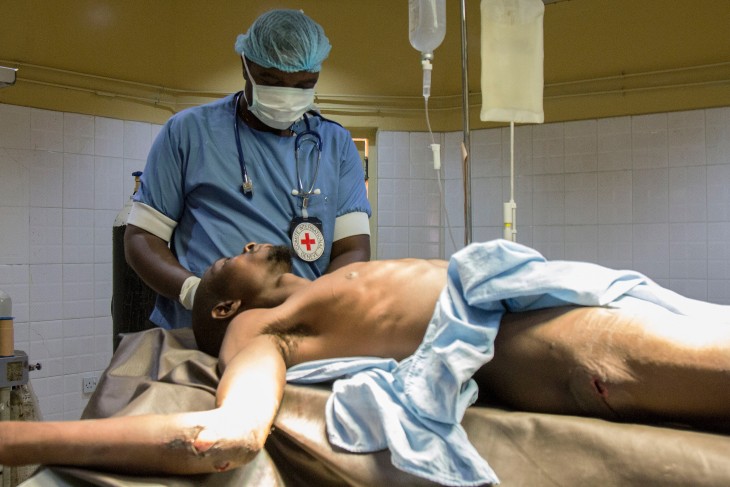 Shelter, water and sanitation
Nigeria
The ICRC renovated or upgraded water points and sanitation in communities affected by armed violence, and in camps and sites for displaced persons.

More than 70,000 people received water, we built 130 latrines in IDP camps in Maiduguri, and 7,600 IDPs in Yola, Maiduguri and Kaduna states received tents, shelters or roofing materials.
Cameroon
We improved conditions for the inmates of Maroua and Bertoua central prisons.
Niger
The ICRC installed:
30 water points in areas affected by the conflict, benefitting 84,000 people;

a 5,000-litre water tank for the inmates of Diffa prison.
First-aid training
Red Cross Society personnel and others received first-aid training and first-aid kits.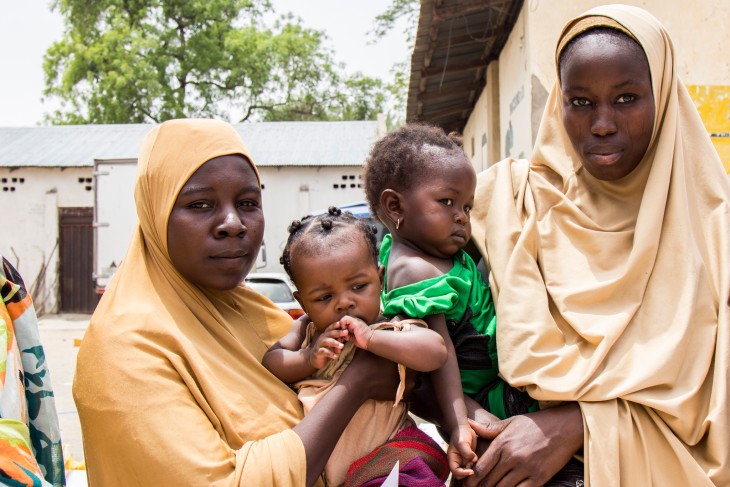 Restoring family links
Nigeria
The ICRC and the Nigeria Red Cross Society collected 1,143 requests to help trace a separated family member.

The Nigeria Red Cross facilitated 1,500 free phone calls between family members who had become separated from each other.
Cameroon
The ICRC and the Cameroon Red Cross registered 123 unaccompanied children in Minawao refugee camp.
Niger
The ICRC and the Niger Red Cross registered 69 unaccompanied children in Diffa and located the families of 46 of them.

The Niger Red Cross facilitated more than 50 free phone calls between separated family members.

The ICRC took steps to inform families of the fate of people reported as having been arrested.
Chad
The ICRC collected 623 Red Cross Messages, distributed 408 and facilitated 10,000 phone calls between people in Chad and the Central African Republic, Cameroon, Nigeria, Niger, Sudan, European countries, the Middle East and the U.S.
Management of dead bodies
Nearly 200 Nigerian emergency personnel received training in the proper management of dead bodies, partly to ensure that officials record information that could help people looking for missing relatives.
Visiting detainees
The ICRC visits people held in military and police detention facilities and in prisons.

We are running nutrition programmes in certain prisons and enabling detainees to keep in touch with their families.