Russian Federation: "It's not just about assistance, it's the attention that counts!"
Hostilities almost always break our unexpectedly for ordinary people, and those with a job, a home and a family have to flee for their lives. While some are luckier than others, finding relatives who can help, most have to restart their lives from scratch with only themselves to rely on.
When distributing humanitarian relief goods to displaced people, the ICRC first of all seeks to support those who are in the most difficult situations.
We are glad we aren't forgotten
Natalia and her husband moved from Gorlovka to the town of Belorechensk in the Krasnodar Region in August 2014, following her daughter and grandson. "We had no choice whatsoever. All these bombs day in, day out. I have a little grandson and I didn't want him to see all that."
After moving, the family found life tough. Nobody was willing to give a job to two old-age pensioners, their grandson had to start school, and their daughter had to support the whole family. "The only thing that saved us was that we began to receive humanitarian assistance from the Red Cross. We try to share what we get with neighbours if they are short of something," says Natalia. "But it's not just about assistance. It's attention that counts. We are glad we aren't forgotten!"
Although the family feel homesick and want to go back, it is still impossible. "I see some people going back and wonder if it's time for us to go too" reflects Natalia, "but then I imagine my grandson's frightened eyes should the bombing resume, so we will stay here for the time being."
It's always hard in a new place
Lyubov arrived in Belorechensk in June 2014. She recalls her journey to the Krasnodar Region with tears in her eyes. "I had no car and no one to travel with, so I decided to take a bus. But there were no tickets left. Then, just before departure, someone returned a ticket. It was me who got it. Lucky me, I thought, finally I'll have a normal life."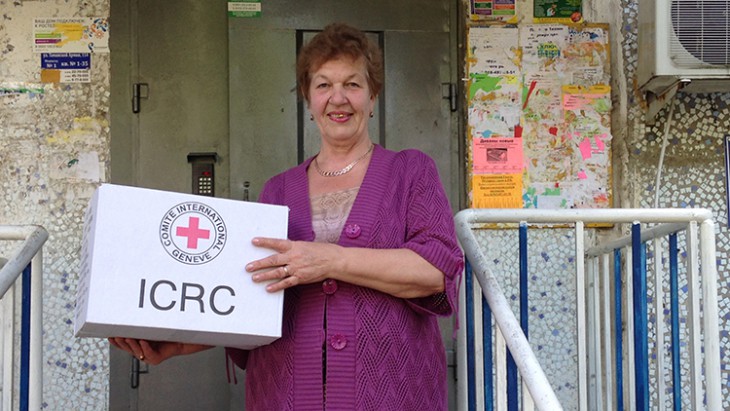 Although the border – and the Krasnodar Region – was not far away, Lyubov's journey will live long in her memory. "We were packed in like sardines. It was night. The bus was moving. It was not possible to switch on the light. Even the phones had to be switched off. We were prohibited from opening the windows, and it was June. The heat was unbelievable. Children were crying while grown-ups tried to control themselves. You must not let your fear show even a little in front of children. Finally, somehow, we made it."
Life in her new surroundings was very hard at first. Lyubov often thought about her old home and her job. Despite the title of 'veteran of labour' and 40 years of work experience as a veterinary surgeon, she could not find even a temporary job.
"After two months I learned that the ICRC was distributing assistance. I needed it very much, but, to begin with, I didn't have the heart to collect it. I felt ashamed. I had always lived well, never asked anyone for a kopeck. But this time I had no choice?" says Lyubov. "I'm very grateful. The assistance gives me all the things I need most. I am so glad when they call and tell me I can go and collect it!"
In the Krasnodar Region, the ICRC distributes humanitarian assistance jointly with the local branches of the Russian Red Cross (RRC) and representatives of local authorities. In all, there are 44 humanitarian assistance distribution points, such that – even in the most remote districts – people can get food and hygienic kits.
Since the beginning of 2016, more than 9,000 forced migrants have received assistance in the Krasnodar Region.