Sourcing quality goods from India to all parts of the world
As part of its mission, the International Committee of the Red Cross (ICRC) procures items to meet the needs of people affected by conflicts around the world. As part of this effort, humanitarian relief items are regularly sent from one country to another for distribution to beneficiaries whose conditions are often extremely challenging due to ongoing armed conflicts and disasters in their own countries. And India has been emerging as one of the important global hubs from which the ICRC sources these goods. For instance, in the last five years, over 21,066 tonnes of rice and 2.54 million blankets have made their way from India to Syria for the communities the ICRC has been working amongst, those who have struggled to access enough food and meet their basic needs after years of conflict.

With its strategic location and capacity to produce high-quality goods, the Indian market plays a critical role for the ICRC in sourcing relief materials for its humanitarian operations around the world.

From 2017 to 2022 (until March 2022), the ICRC procured goods and services worth INR 524.2 crores (USD 69.3 million) from Indian suppliers.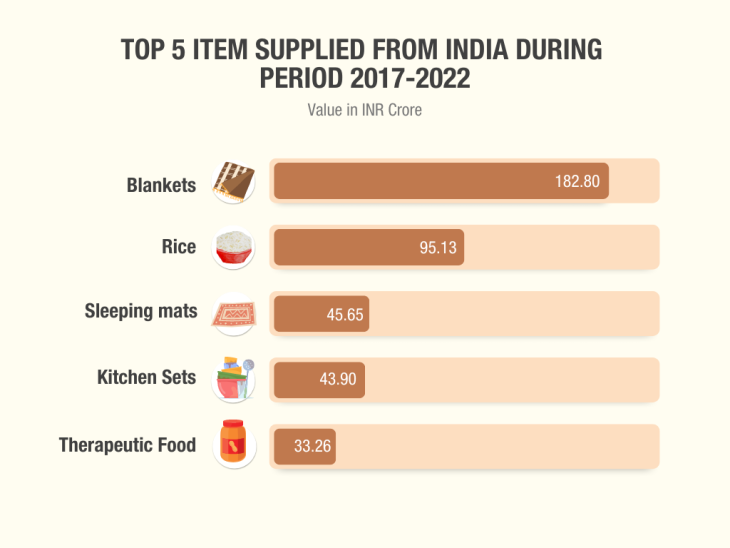 A variety of household items and sanitation products were sourced from India during this period, including therapeutic and supplementary food, medicines, blankets, sleeping mats and kitchen sets, hygiene kits, school kits, and cold boxes, as well as hand pumps and electric cables for restoring water and electricity supplies. These reached men, women, children and other groups in need from Afghanistan to Nigeria, Bangladesh to Nigeria, Kenya, Jordan, Ethiopia, Yemen, Iraq, Sudan and Libya.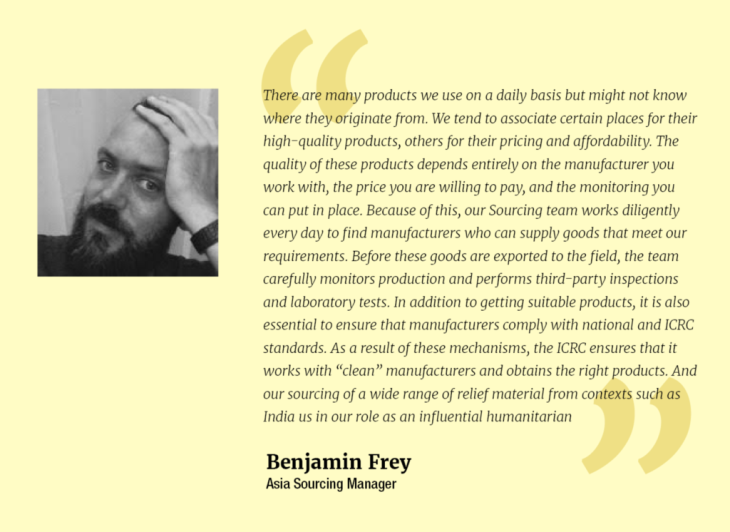 Despite the challenges that the COVID-19 pandemic threw up to the supply chain in the last couple of years, the ICRC's Asia Sourcing department based in New Delhi continued to work with various manufacturing units, ensuring their adherence to ethics, quality, social and environmental standards, and implemented the delivery of these items to the different countries.

An above-board and well-organized system results in the efficient and effective delivery of these items and services to the beneficiaries. The institution not only focuses on the quality and the price of the product, but it also pays special attention to the company's social compliances, including the working conditions, hygiene and security, environmental impact, and the quality management system in the factories.

In addition, the ICRC conducts supplier assessments, audits, and coaching, after which it has rigorous testing done in external laboratories. It also evaluates the best practices regarding warehousing and shipping. As a result of this extensive process, several manufacturers have received recommendations on corrective measures and how to bring them up to global standards.