Stories and objects from Yemen bring crisis to life in Manchester
A new exhibition on Yemen has opened in Manchester showcasing objects and items from the war-torn country.
Yemen: Inside a crisis seeks to explore how conflict has impacted the lives of Yemenis through 50 objects and photographs. 
Among the objects on display is a poster from the ICRC with information on cholera prevention. New cases of the preventable disease are being recorded on a daily basis in Yemen.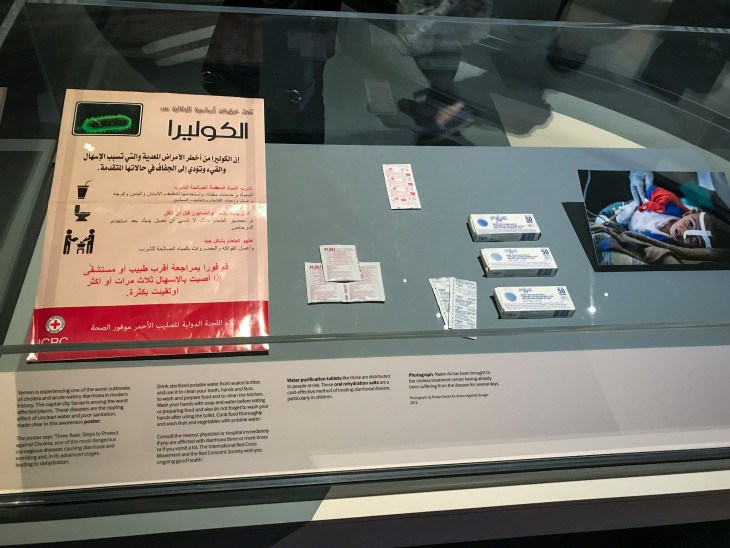 Helen Alderson, head of the ICRC in the UK and Ireland, said, "The escalation of hostilities in recent days has shown again just how desperate the situation in Yemen has become.
"Civilians must not pay the price of conflict. Yet five years of conflict have shattered countless lives and left millions dependent on aid.
"Behind each statistic is a human story and it's good to see such stories being brought to life in a compelling way here in the UK."
The exhibition, at the Imperial War Museum North (IWM), runs from 17 May to 24 November.
Louise Skidmore, head of contemporary conflict at IWM, said, "IWM was founded a century ago to ensure that we never forget what it means to live in a world torn apart by conflict.
"We show how war can destabilise regions, tear apart societies and force people to flee from their homes. The impact of the conflict and crisis in Yemen is above all a human story – one that demands our attention – and we hope that this season encourages reflection and conversation both inside and outside the museum."
For more information, visit Imperial War Museum North