ICRC presents record budget for 2015 to meet vastly expanding needs
Geneva (ICRC) – For 2015, the International Committee of the Red Cross (ICRC) is asking its donors for 1.6 billion Swiss francs (1.26 billion euros, or 1.68 billion US dollars) to help millions of people whose lives have been torn apart by armed conflict or other violence. This amount, the largest ever requested by the ICRC, represents a 25 per cent increase over the initial appeal made by the organization last year.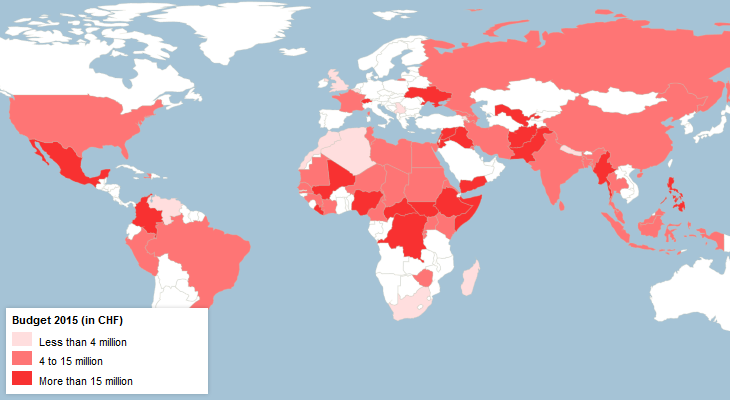 "This record budget is required to meet the needs and fit our response to the changing nature of armed conflict," said ICRC President Peter Maurer, speaking at a press conference in Geneva, on the occasion of the launch of the organization's emergency appeals. "We are witnessing new kinds of crises, in new combinations, often with a regional dimension. We are no longer simply facing traditional internal or international armed conflict. Gaining access and proximity to ever greater numbers of people in need while coping with increasingly severe security constraints is a fundamental challenge for us." The ICRC's 2015 budget includes the initial figures of 1.38 billion Swiss francs for field operations and of 194.4 million francs for support provided by the organization's headquarters in Geneva.
In the many diverse, unpredictable and complex armed-conflict situations in which the ICRC is working around the world, one common feature is the widening gap between vast humanitarian needs and an adequate response. Now more than ever, millions of people in increasingly volatile situations stand in need of protection and assistance. Crises in Syria (video on our expanding humanitarian action), Gaza, Iraq, South Sudan, Ukraine (news on our efforts to reach those most in need) and elsewhere are having a devastating effect on civilians. In West Africa, a region already struggling to recover from years of conflict, the Ebola epidemic has tested the capacities of fragile health services and is further exacerbating economic and food insecurity.
Syria, where the bloody stalemate persists with severe repercussions for neighbouring countries, will remain the site of the ICRC's largest operation in terms of expenditure in 2015, with a budget of more than 164 million Swiss francs. The next largest ICRC operations will be those in South Sudan, Afghanistan (video on our ortho centre),  Iraq (video on our efforts to bring essential aid to 1.5 million displaced as winter arrives), Somalia, the Democratic Republic of the Congo, Israel and the occupied territories, Mali, the Central African Republic and Ukraine.
While some conflicts such as those in the Middle East, Ukraine and South Sudan grab the headlines and the attention of the international community, others tend to be neglected and almost forgotten. In countries such as Afghanistan, the Democratic Republic of the Congo and Somalia, to name but a few, levels of violence and atrocities against civilians are losing none of their intensity and are further aggravating the humanitarian situation already impaired by decades of conflict.
One priority for the ICRC in the years ahead will be to further increase its response to health needs, particularly surgical care for the wounded, health care for detainees and physical rehabilitation for people with disabilities. "Another will be to consolidate and reinforce our organization's approach to addressing the humanitarian needs of detainees, internally displaced people, refugees and vulnerable migrants," explained Mr Maurer.
A third priority will be to strengthen the ICRC's response to sexual violence in places such as the Central African Republic, Central America, Colombia, the Democratic Republic of the Congo (video on psychosocial support to victims), Lebanon, Mali and South Sudan. "We will seek to address both the causes and the effects of sexual violence in a comprehensive manner that includes not only health care and psychosocial support but also preventive care and awareness-raising efforts," said Mr Maurer.
"An overriding challenge now is to find and pursue more innovative ways of responding to needs that will enable us to bring aid more effectively and rapidly to those who require it, and to take into account their own views on what they need," he said. He pointed out that the ICRC often brings aid to people in remote areas, such as northern Mali and certain parts of Nigeria, which few other humanitarian organizations manage to reach, and that it will continue to do so.
The current year has been very difficult in terms of security, with three ICRC staff losing their lives in the Central African Republic, Libya and Ukraine. In Syria, where three ICRC staff are still being held, 40 Syrian Arab Red Crescent volunteers have been killed since the beginning of the conflict almost four years ago. Now as ever, the ICRC is striving to manage the fine balance between providing humanitarian aid where it is needed and making sure that its personnel are not exposed to undue risk.
The ICRC will press on with its efforts to make health-care delivery safer (video on the dangers of bringing medical aid in Yemen) in armed conflicts and other emergencies. "In several countries, medical personnel, facilities and transport are being targeted by armed groups," said Mr Maurer. "Not only does this violence hinder access to health care but it also weakens the health services themselves. There will be no letup in our struggle to put an end to these intolerable practices."
The ICRC will strengthen its partnership with national Red Cross and Red Crescent societies around the world, especially in the event of large-scale emergencies, and expand contacts with other organizations and groups of influence. "In the ever more complex and dangerous environments in which we are carrying out our activities, it is critical that we cooperate more closely with others – while maintaining our neutral, impartial and independent approach to humanitarian work – in order to maintain or gain access to the people who require our help and better respond to their growing needs," said the ICRC president.
For further information, please contact:
Dibeh Fakhr, ICRC Geneva, tel: +41 22 730 37 23 or +41 79 447 37 26
Dorothea Krimitsas, ICRC Geneva, tel: +41 22 730 25 90 or +41 79 251 93 18
Sebastien Carliez, ICRC Geneva, tel: +41 22 730 28 81 or +41 79 536 92 37