Malaysia: Training of Trainers picks up momentum in Sabah
As many as 21 volunteers of the Malaysian Red Crescent Society (MRCS) converged in the small town of Beaufort, Sabah, roughly 90 km from the capital city of Kota Kinabalu. For three days, they participated in a Training of Trainers (ToTs) course on First Aid Training Harmonization (FATH) and Health and Hygiene Promotion, co-organized by the MRCS in Sabah State and the ICRC.  
Fourth of its kind this year, the training brought together volunteers from Beaufort, Sipitang, Papar and Kuala Penyu districts and the MRCS Federal Territory of Labuan. Facilitators included volunteers who have attended previous training programmes and have field trip experience.
Across the state, there are 22 MRCS districts and one chapter, some more active than the others. It is training programmes like these that help reinvigorate some less active volunteers.  
The first phase of the ToTs took place from 4 to 8 August 2017 and involved just five districts.  Phase two began early this year and covered all 22 MRCS districts, training a total of 180 volunteers.  ICRC's Head of Office in Sabah Dominik Urban explained: "The Training of Trainers (TOTs) not only refreshes volunteers' first aid skills but also presents them with new ideas for activities they could run in their community."
This time around the group was particularly diverse, with volunteers ranging from ages 19 to 50.  Senior volunteers worked alongside their younger counterparts in robust, practical exercises designed to refresh first aid skills. This particular FATH programme is unique in that volunteers learn to practice first aid skills using common household items and is targeted mainly at remote, rural communities. Participants also shared best health and hygiene practices and techniques of disseminating messages, including role playing. The latter sessions are aimed at primary school children in rural areas.
Donnie Leong, ICRC's health field officer, shared that role play is effective to convey health messages "because it creates a fun and interesting learning environment for children. They can be agents of change by sharing their learnings with their family and community members".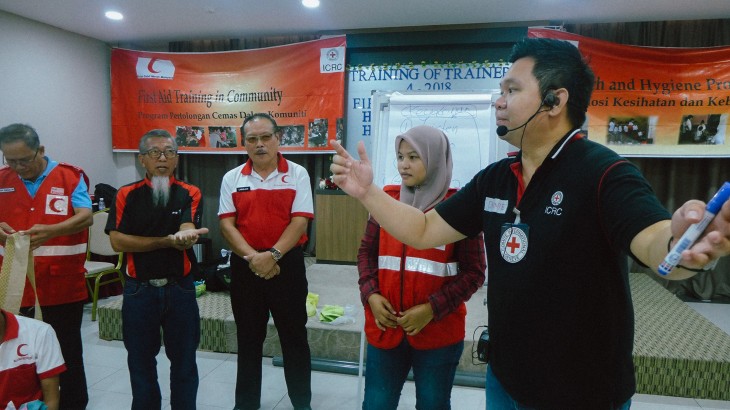 The training was also an opportunity for volunteers to refresh their knowledge about the International Red Cross and Red Crescent Movement and its fundamental principles. The participants practised facilitating dissemination sessions with village heads, local leaders and head teachers. Apart from honing their presentation skills, they also learnt how to handle tough questions.
Lunieh Kumpit, a teacher and volunteer from the Kuala Penyu district, was appreciative that the training course not only focused on technical knowledge but also on soft skills. "The ToT was very beneficial as it helped us improve our communication and diplomatic skills to deal with our beneficiaries," she said.
Mazdi, who had travelled from Labuan for the training, looked forward to applying his new-found skillset, "starting with talking to my immediate family about what I've learnt" he added.
Upon completion of this training, volunteers will assess their districts to determine communities most in need. A proposal would be discussed with the MRCS state branch and with the support from the ICRC, field visits will be jointly organized into the village.
Mohd Firdaus from the Sipitang district said he was keen to see more young volunteers in these training sessions. Honorary secretary of MRCS Sabah state and the workshop facilitator, Elizabeth Sikayun, said the National Society would encourage its members to participate in such trainings in the future.