Boao Forum for Asia 2023: ICRC calls on all states to respect IHL as a political priority
The Boao Forum for Asia (BFA) 2023 Annual Conference themed An Uncertain World: Solidarity and Cooperation for Development Amid Challenges was held in Boao, China, from 28–31 March. Invited to participate in the session on global geopolitical outlook on 29 March, the International Committee of the Red Cross (ICRC) called on all states to consider respect for international humanitarian law (IHL) as a political priority.
Article
31 March 2023
China
Xu Bu, president of China Institute of International Studies, moderated the session and Nong Rong, assistant foreign minister of the Ministry of Foreign Affairs of China, delivered a keynote speech. The panellists had in-depth discussions on global security challenges including the Russia-Ukraine international armed conflict and cooperation among major countries. The discussions focused on how to understand complex security dilemmas, secure regional stability and prosperity and develop solutions that address the root causes of international conflict.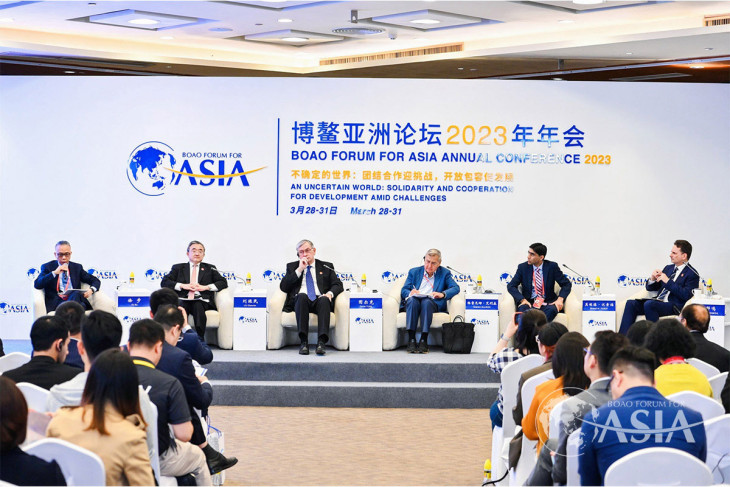 Pierre Krähenbühl, personal envoy of ICRC president to China and head of the regional delegation for East Asia, stressed that the organization was founded 160 years ago with the mandate to save lives and preserve the dignity of people affected by armed conflict. Guided by the fundamental principles of independence, neutrality and impartiality, the ICRC has been working to alleviate the suffering of people in Afghanistan, Ethiopia, Iraq, Somalia, Syria, Ukraine and Yemen among other countries across the world.
Krähenbühl said the ICRC was mandated by the states through the Geneva Conventions of 1949, which are at the heart of IHL and the rules of war, to help people affected by armed conflict and other violence.
The Geneva Conventions are among the most ratified treaties in the world, which is usually done during times of peace, and respecting them should be a political priority for all states during times of armed conflict.
Assistant foreign minister Rong said in the face of the international security landscape fraught with changes and turbulence, the Global Security Initiative proposed by China is consistent with the international community's efforts to safeguard and promote world peace and security, and guides their thought and action.
Other panellists included Danilo Turk, member of BFA Council of Advisors, former president of Slovenia and president of Club de Madrid, Liu Zhenmin, former under-secretary-general of the United Nations Department of Economic and Social Affairs, Moeed W Yusuf, former National Security Adviser of Pakistan, and Graham Allison, Douglas Dillon Professor of Government at Harvard University.
Marking the first offline annual conference of BFA since the outbreak of COVID-19, this year's forum consisted of four modules – "Development and Inclusiveness", "Efficiency and Security", "Regional and Global" and "The Present and the Future". The modules encouraged discussions on promoting international cooperation and consolidate consensus.