Colombia, plunged into isolation by pandemic and conflict
A reduction in the humanitarian consequences of armed conflict and violence would have been a positive start to 2021. Sadly, the opposite was true.
There are at least five ongoing non-international armed conflicts that continue to affect the daily lives of Colombia's civilians and their ability to live in dignity.
The ICRC considers the parties to these conflicts to be the Republic of Colombia, the National Liberation Army (ELN), the Popular Liberation Army (EPL), the Gaitanistas Self-Defence Forces (AGC) and the structures of the former Revolutionary Armed Forces of Colombia – People's Army (FARC-EP) that did not join the 2016 Final Agreement and operate under a centralized command (Fronts 1, 7 and 40 – Coordinating Command of the West).
The pandemic has heightened fear among communities affected by violence, not only because they fear the virus itself and have witnessed its impact on thousands of families but, with the passing months, they have found themselves without protection amid worsening armed violence.
For almost 50,000 Colombians, armed violence has made mass displacement* and confinement a tragic part of their life. Many have been affected financially by the pandemic and have been forced to choose between taking cover at home or fleeing to safety and leaving everything behind. In Nariño department, for example, there was a mass population displacement on average every 11 days.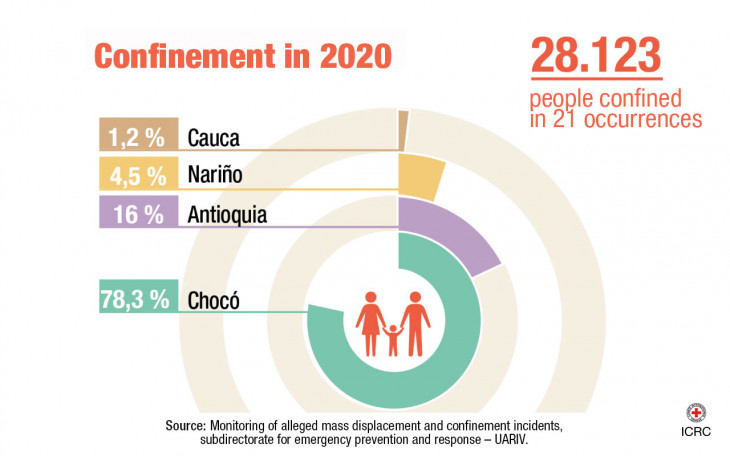 Last year, we recorded an increase in the number of victims of explosive devices–and the number was alarming. In most cases, the incidents occurred far from municipal capitals where there was limited access to emergency health care. The communities themselves became first responders.
Some of the other violations of humanitarian law allegedly committed by all armed actors include threats, murder, cruel and inhuman treatment, sexual violence, attacks on health services, the destruction or damage of civilian property, the recruitment and use of children, disappearances and a failure to protect civilians from the consequences of the hostilities.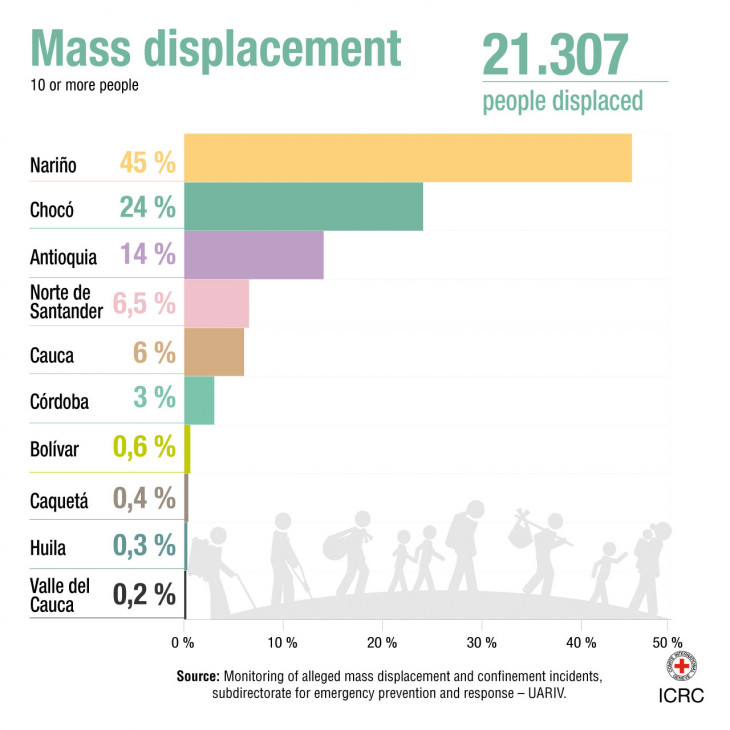 In addition, it was also difficult for people to obtain protection or judicial guarantees from the state, either because of the restrictive measures to stop the spread of COVID-19 or because of the movement restrictions some armed groups imposed on civilians.
Living amid these dire circumstances are people, the victims, who have shown remarkable resilience in adapting to new forms of violence in order to survive.
We have faced difficulties too when carrying out our humanitarian work, but we persevered even during the most challenging moments of the pandemic. In 2021, we will continue our efforts to relieve the suffering caused by armed conflict.
However, our efforts will never be enough if those responsible for inflicting this suffering are not truly committed to limiting the humanitarian impact of warfare. We will continue to reiterate the point that there really are limits.