China: Law students contend for regional title at the 21st Red Cross IHL Moot Court for Asia-Pacific Region
Beijing (ICRC) ----The 21st Red Cross International Humanitarian Law Moot for Asia-Pacific Region opens today in Hong Kong, China. The four-day event is jointly organized by Regional Delegation for East Asia of the ICRC and the Hong Kong Red Cross (HKRC), in collaboration with the Chinese University of Hong Kong and the University of Hong Kong.
News release
08 March 2023
China
A total of 24 teams from countries and regions across the Asia-Pacific will participate in this year's competition. More than 60 professionals from government, academia, legal practice and international organizations in the region will serve as judges for the competition.
"The Asia Pacific Moot Court, and the moot courts held in various locations in countries within the region, serve as an important platform for the promotion of International Humanitarian Law (IHL) amongst students and academics. We hope that the competition will not only examine the students' legal knowledge and skills, but also open a door to the world of humanitarian law." said Marwa Shabbar, Head of Legal Department of ICRC's Regional Delegation for East Asia.
The competition also provides academics, who are integral to the judging process, with an opportunity to network and share expertise with other like-minded experts. For over 20 years, this moot court competition has been a major event in the promotion of IHL in the Asia-Pacific region.
Students will act as counsels of both prosecution and defence and argue in English for a fictional case before the simulated International Criminal Court. This year the moot problem is focused on the protection for the natural environment, the status of prisoners of war, and the war crime of compelling the nationals of the hostile party to take part in the operations of war directed against their own country.
A series of side events will be organized during the competition to enhance awareness and understanding of IHL and relevant topics. Notably, a keynote seminar on the use of indiscriminate weapons and their impact on the environment will be held on March 10, moderated by Mr. Alex Fan Hoi Kit, Barrister-at-law and President of Hainan International Arbitration Court. Guest speakers of the seminar include David Michael Baker, associate professor at the school of Biological Sciences of Faculty of Science of the University of Hong Kong, Ms Kelisiana Thynne, Head of the Legal Department of ICRC Delegation in Manila, and Dr. Nishara Mendis, Senior Lecturer at Faculty of Law of the University of Colombo.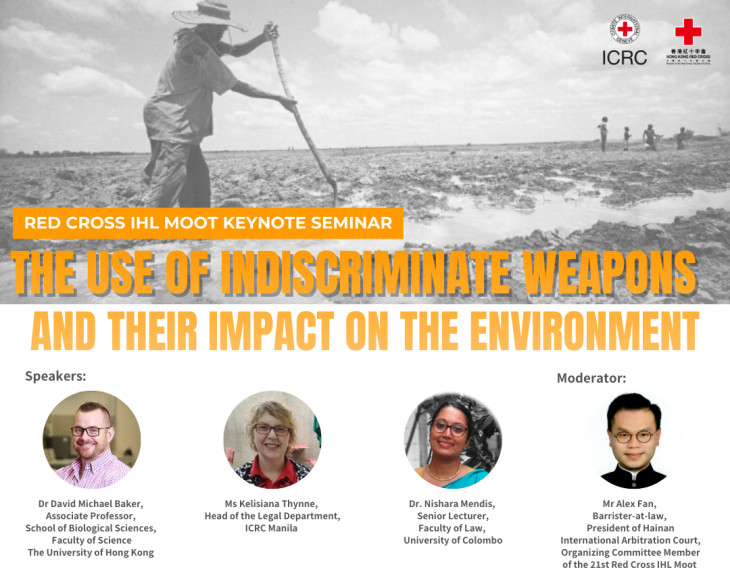 To raise students' enthusiasm to work for the humanitarian sector, the organizers will host a career talk where ICRC staff will share their experiences and insights. Students will also have the chance to experience simulated field activities at the Humanitarian Education Centre in the Hong Kong Red Cross.
For further information, please contact:
Michael Zhang
ICRC Regional Delegation for East Asia, Beijing
Mobile: +86 138 1003 5522
Tel: +86 10 85328507