China: University of Adelaide Wins IHL Moot for Asia-Pacific Region
Beijing (ICRC)----On March 11, 2023, the 21st Red Cross International Humanitarian Law Moot Court Competition for the Asia-Pacific Region concluded in Hong Kong, China.
After four days of competition, University of Adelaide (Australia) has won the top prize, followed by University of Auckland (New Zealand). Brickfields Asia College (Malaysia) won the best memorial for prosecutor, while the prize of best memorial for defendant went to Singapore Management University (Singapore). Ms. Annalise Delic from University of Adelaide was awarded Best Mooter of the Final Round.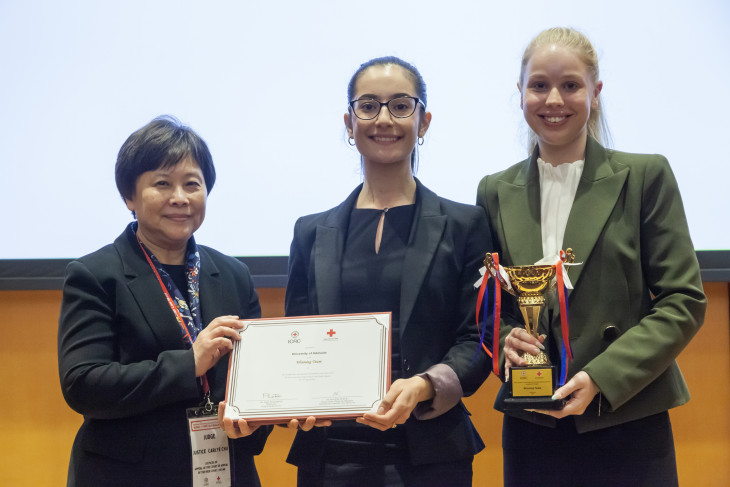 "The regional moot has become a major flagship event for the dissemination of IHL, winning international acknowledgment and bringing inspiration to many participants. The competition also showcases how the Red Cross and Red Crescent Movement works together to promote and disseminate IHL. " said Mr. Ambrose Ho, Barrister-at-law and Chairman of the 21st Red Cross IHL Moot in Hong Kong, at the awards ceremony.
Marwa Shabbar, Head of Legal Department of ICRC's Regional Delegation for East Asia, commended the participating teams for their quality of memorials and presentations and advocacy skills, which have maintained the high standard of the competition and the reputation it enjoys.
"Let us continue to work together towards a world where the IHL are respected and where the humanitarian consequences of armed conflicts are minimized." she added.
"This year, the regional moot court competition was held on-site again after four long years. Many students and judges are thrilled to have face-to-face interaction again and they believe it's more conducive to in-depth discussions of complex legal issues, and the side events also provide an opportunity to share personal experiences and feelings," said Dr. Liu Xinyan, legal advisor of the ICRC Regional Delegation for East Asia.

List of Award Recipients
Winning Team
University of Adelaide
Runner-up Team
University of Auckland
Best Mooters
Best Mooter of the Final Round
University of Adelaide
Ms. Annalise Delic
Best Mooter of the General Rounds
Singapore Management University
Ms. Xin Yu Ng
First Honorable Mention of the General Rounds
Universitas Gadjah Mada
Ms. Rachelle Tan
Second Honorable Mention of the General Rounds
Singapore Management University
Ms. Ong Renee Yu Ning
Memorial
Prosecutor
Best Memorial
Brickfields Asia College
First Honourable Submission
University of Adelaide
Second Honourable Submission
University of San Agustin
The Chinese University of Hong Kong
Defendant
Best Memorial
Singapore Management University
First Honourable Submission
University of Adelaide
Second Honourable Submission
National University of Mongolia
Brickfields Asia College
Quarter-Finalist Teams (Top Eight Teams)
(in alphabetical order)
University of Political Science and Law
The Chinese University of Hong Kong
Peking University
University of Auckland
Singapore Management University
Universitas Gadjah Mada
Southwest University of Political Science and Law
University of Adelaide
List of the 24 Participating Teams
(in alphabetical order)
1. Brickfields Asia College, Kuala Lumpur
2. China University of Political Science and Law, Beijing
3. Diplomatic Academy of Vietnam, Hanoi
4. Handong International Law School, Pohang
5. Jahangirnagar University, Dhaka
6. Kathmandu School of Law, Kathmandu
7. Lahore University of Management Sciences, Lahore
8. National Taiwan University, Taipei
9. National University of Laos, Vientiane
10. National University of Mongolia, Ulaanbaatar
11. Peking University, Beijing
12. Royal University of Law and Economics, Phnom Penh
13. Singapore Management University, Singapore
14. Southwest University of Political Science & Law, Chongqing
15. Thammasat University, Bangkok
16. The Chinese University of Hong Kong, Hong Kong
17. The Open University Of Sri Lanka, Colombo
18. The University of Hong Kong, Hong Kong
19. The University of Tokyo, Tokyo
20. Tribhuwan University, Kathmandu
21. Universitas Gadjah Mada, Yogyakarta
22. University of Adelaide, Adelaide
23. University of Auckland, Auckland
24. University of San Agustin, Iloilo City