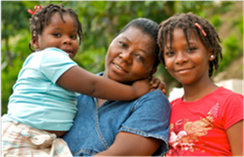 After the 2010 earthquake in Haiti, thousands of families began searching for their loved ones, unsure whether they were dead or alive.
When nine-year-old Saïda was pulled out of the rubble, she was taken to a hospital in the capital Port-au-Prince and then transferred for further treatment in Guadeloupe. Her mother, Salvanie, had no idea that her daughter had left the country.
In her desperation, Salvanie contacted the ICRC for help. Our delegates began checking their lists, comparing them with those of other organizations and exploring all avenues to try and find Saïda. We were finally able to match the information collected from her mother with that of a girl being repatriated from Guadeloupe by the French embassy. As soon as Saïda was back in Haiti she could be reunited with her mother.
"When I got home, my mother cooked for me." said Saïda. "We told each other jokes and I told her how I was feeling." Salvanie organized a party for her daughter's homecoming, relieved and overjoyed to have Saïda safe and sound and back where she belonged, with her family.